Center for the Future of the Health Professions Nov. 2022 digest
Posted: November 7, 2022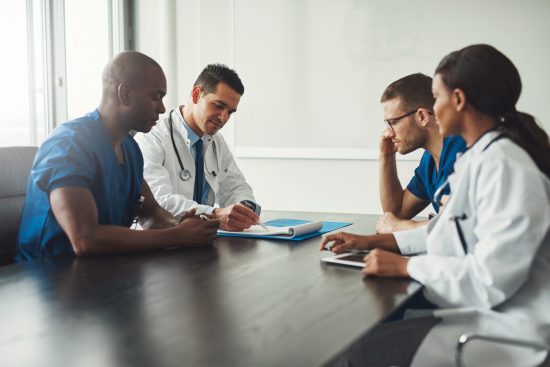 This month, The Center for the Future of the Health Professions will post another monthly op-ed column for 2022. Our columns represent strong, informed, and focused opinions on issues affecting the health professions' future. As mentioned previously, the center was developed to provide state, local, and national policymakers and health system stakeholders with accurate, reliable, and comprehensive data and research about the healthcare workforce to effectively plan for a sustainable future and make the best use of available resources.
This month features a discussion of the future of athletic training education and is authored by Dr. Tamara Valovich McLeod. Dr. McLeod is chair, director, and professor for the Athletic Training department, professor in the School of Osteopathic Medicine in Arizona, and John P. Wood, DO, endowed chair for sports medicine at A.T. Still University in Mesa, Arizona. Dr. McLeod completed her PhD at the University of Virginia and is the founding director of the Athletic Training Practice-Based Research Network. Her research has focused on the pediatric athlete with respect to sport-related concussions. Dr. McLeod serves on numerous editorial boards, publishes frequently in the athletic training and sports medicine journals, and is a NATA Fellow.
We look forward to your comments.
Randy Danielsen, PhD, DHL(h), PA-C Emeritus, DFAAPA
Professor & Director
The Center for the Future of the Health Professions
A.T. Still University
Athletic training education
In the last decade there have been some considerable shifts in athletic training education, including a professional degree transition, the development of residency and fellowship programs, and the emergence of doctoral level programs of study. Historically, the athletic training degree was offered at the baccalaureate level and students would be eligible to sit for the Board of Certification examination following the completion of that degree. In 2014, a recommendation was made to transition the professional preparation of athletic trainers to the master's degree level. The rationale for the recommendation was due to several key factors, including the evolution in the professional competency requirements, better alignment with peer healthcare professions, facilitation of interprofessional education, and retention of students committed to the athletic training profession. Current data from the Commission for the Accreditation of Athletic Training Education (CAATE) reports 273 professional master's programs and 45 professional programs still offering bachelor's degrees.
In addition to professional programs, athletic training has numerous post-professional educational options. Prior to the degree transition, post-professional master's degree programs, like the one offered at A.T. Still University from 1995-2022, were one path that credentialed athletic trainers could follow for advanced coursework. However, the transition of the professional degree to the master's level limited the need for post-professional master's degree programs and paved the way for the emergence of programs offering a doctor of athletic training (DAT) degree. The DAT is an advanced practice doctoral degree designed to prepare future leaders in athletic training who are capable of making substantial contributions to improvements in the delivery of athletic healthcare to improve the health of their communities. There are currently eight DAT programs across the United States.
In addition to advanced practice doctorates, athletic training education has recently added residencies and fellowships to the post-professional educational pathway. Residency programs allow athletic trainers to engage in a structured curriculum with didactic components and mentored clinical components to develop expertise in a specialty area. The CAATE has identified eight focused areas of clinical practice for accredited residencies including: prevention and wellness, urgent and emergent care, primary care, orthopedics, rehabilitation, behavioral health, pediatrics, and performance enhancement. Future opportunities may exist within athletic training fellowships that would provide the opportunity for athletic trainers to subspecialize in a very focused area of practice.
Athletic training programs at ATSU
The athletic training (AT) programs at ATSU launched in 1995 as one of the original programs within the Arizona School of Health Sciences. Since that time, the program has expanded offerings to an online doctor of athletic training (DAT) degree, online master of science in athletic training (MS-AT) degree, five certificate programs, continuing education programming, and has just begun a digital badging initiative.
Initially called Sports Health Care, the residential master's degree in athletic training was a post-professional degree for athletic trainers looking to advance their knowledge and skills beyond the professional degree. Students are board certified and licensed as athletic trainers in Arizona. Most hold graduate assistantships at local colleges and high schools where they provide athletic training services. This residential program was closed in August 2022 as we transitioned to an online format for our MS-AT degree.
Anticipating the professional degree transition, the AT programs launched DAT in January of 2015. This post-professional program targets working athletic trainers who are interested in advancing their career and the athletic training profession by becoming clinical and academic leaders. Students in the DAT program are employed in a wide variety of settings, including secondary school, college, professional sports, occupational health, dance medicine, academia, and the military.
The DAT program is online and asynchronous, with the exception of a one-week winter institute. Students develop a customized academic degree plan that includes three foundational areas (clinical decision-making, winter institute, applied research) and 24 elective credits from the orthopaedic, rehabilitation, leadership and education, and sport neurology and concussion concentration areas. The culmination of the DAT degree program is the completion of an applied research project, with options for original research, case studies, quality improvement initiatives, and special projects.
Each of the concentration areas and the clinical decision-making foundation are also offered as 12-credit graduate certificate programs for students interested in a specific content area. In addition, an online MS-AT degree was launched in July 2021. This 30-credit fully online program will allow students who completed professional programs at the baccalaureate level to complete a master's degree while beginning their career.
Through our Athletic Training Practice-Based Research Network, the AT faculty and post-doctoral fellows have authored 14 continuing educational courses available to athletic trainers free of charge. Since 2015, there have been more than 110,000 course completions covering contemporary content such as clinical outcomes assessment, quality improvement, health information technology, injury prevention, and concussion.
Remote learning and the COVID-19 pandemic
The faculty within the AT programs have developed, instructed, and managed online courses since the inception of the DAT in 2015. While each faculty member may use different assignments and instructional tools that best fit their course content, all are comfortable and proficient in online instruction. When the pandemic closed the Mesa campus and required our residential courses to move to online instruction, our faculty were able to transition seamlessly for the most part. As with other programs, lab activities needed to be modified, but the experiences in developing clinical and lab-based content for our DAT were helpful through the transition. The faculty did use synchronous class meetings to continue to have a face-to-face presence with our students and added Friday afternoon "coffee talks" to discuss current topics and increase engagement. This addition was especially helpful early on in the pandemic as most graduate assistantship positions were not in person either, with secondary schools and colleges going remote. Many of these discussions focused on telehealth and how our students could continue to serve their patients in a remote capacity. Additionally, we mentored students on navigating employment interviews remotely.
While the transition to remote learning had less of an impact on our DAT and graduate certificate programs, we recognized that students in those programs were dealing with the uncertainty of their own employment and navigating management of their own patients, all while continuing in courses towards their doctoral degree. The faculty increased their virtual office hours and communication with our DAT students to ensure that the program was meeting their needs during this difficulty time and the program director started monthly drop-in hours to improve accessibility for students.
Future initiatives
The athletic training programs have two primary initiatives. The first is a digital badge initiative, in which digital badges are awarded to students and alumni for completion of courses, tracks, and the degree. Digital badges allow students to showcase their accomplishments and professional development with current or future employers, or among peers in a manner that can be easily displayed and verified online.
The athletic training programs are also exploring the development of a hybrid professional master's degree program. This program would target students interested in becoming an athletic trainer and would use our expertise in online learning with clinical experiences at sites across the country. The program would be taught using a competency-based model that may include the digital badge framework to teach and verify skills. Unlike traditional residential programs, the hybrid model would allow students to learn from where they feel most comfortable and even seek immersive clinical experiences near their home location or in specific settings of interest.
Ultimately our goal is to meet students where they are and provide educational offerings across the entire spectrum of athletic training education including professional, post-professional, and continuing education opportunities.