Audiology student awards presented to class of 2015 graduates
Posted: August 26, 2015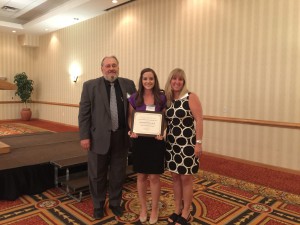 The ATSU Department of Audiology presented two awards at a graduation dinner held on Aug. 6 at the Arizona Golf Resort in Mesa, Ariz.
Rex Banks, AuD, '15, MA, CCC-A Reg., CASLPO, was awarded the Professional Leadership Award for the transitional AuD program. The award recognition was announced by Tabitha Parent Buck, AuD, chair, Department of Audiology. Since Dr. Banks was unable to attend, he will receive his award in early October.
"Dr. Banks has a 26-year history of providing audiology care that goes above and beyond the norm," said Dr. Parent Buck. He has worked in private practice, ENT offices and as a university adjunct, and is currently the chief audiologist at the Canadian Hearing Society—the largest non-profit of its kind serving culturally dead, oral deaf and hard-of-hearing individuals. He oversees 17 audiologists working across 25 clinics.
"We are proud to have Dr. Rex Banks as an AuD graduate of the class of 2015," added Dr. Parent Buck.
Henry Trahan, AuD, assistant professor, ATSU Department of Audiology, presented Christine Burris, AuD, '15, with the Outstanding Student in Audiology Award for an entry level Doctor of Audiology graduate. "Dr. Burris has shown her four years with us to be filled with dedication, academic excellence and service to ATSU and the community," said Dr. Trahan.