Audiology department receives $863 in donations for Still Hearing Fund
Posted: March 17, 2017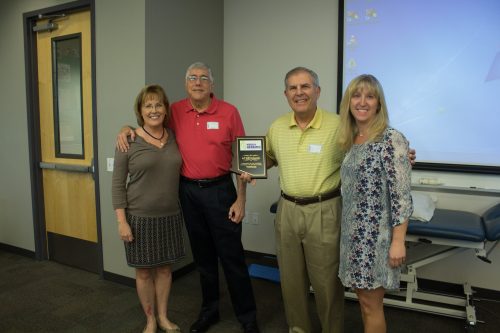 Faculty, staff, and students from the audiology department in A.T. Still University's Arizona School of Health Sciences (ATSU-ASHS) participated in the Hearing Loss Association of America's (HLAA) Arizona Walk 4 Hearing on Nov. 12, 2016.
The ATSU-ASHS audiology department also created an alliance team to raise funds for the walk, resulting in a total of $2,158 raised. By forming an alliance team, 40 percent of the funds raised were donated back to the ATSU Still Hearing Fund — a total of $863.20. A plaque recognizing ATSU's outstanding contribution was presented to the audiology department in February by HLAA representatives Ron Tallman and Barry Forst, and was accepted by Tricia Dabrowski, AuD, associate professor and clinical coordinator of audiology, and Tabitha Parent-Buck, AuD, professor and chair of audiology.
The Still Hearing Fund provides long-term loaner and permanent hearing aids to adults and children with communication impairment as a result of hearing loss, and for those who otherwise are unable to afford them. Special priority is given to children under the age of 18 with newly-identified impairments.​