Audiology alumni gather to reconnect and celebrate
Posted: April 10, 2013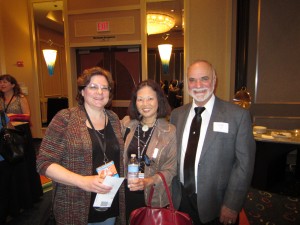 Audiology alumni gathered April 3 during the AudiologyNOW Convention in Anaheim, Calif., to reconnect with one another and receive updates from Randy Danielsen, PhD, PA-C, DFAAPA, dean, A.T. Still University's Arizona School of Health Sciences, and Tabitha Parent Buck, AuD, chair of audiology, at the event.  Below is a recap of the highlighted updates:
 The Arizona School of Health Sciences has seen tremendous growth. What started out as a school with four programs and 60 students has evolved into a nationally-recognized school with 1,300 students and 11 programs in less than two decades.
A degree in audiology from ATSU continues to be widely recognized and sought after  (several prospective students joined  the reception to learn more).  Dr. Parent-Buck thanked alumni, faculty, and students for helping to spread good words about the audiology programs.
The ATSU-affiliated AFA Balance & Hearing Institute held its grand opening on March 1. With Troy Hale, AuD, '08 as its director, the Institute offers not only a full range of audiology services to patients in the community, but also hands-on clinical training and research opportunities to audiology students. Read more here.
The Audiology department would not be able to grow and continue providing quality education and training in audiology without alumni support.  Alumni can learn more about the Alumni Scholarship Challenge and help more students realize their dreams of delivering quality care by clicking here.
Please visit the alumni Facebook page to see additional photos: https://www.facebook.com/ATSU.Alumni.