Audiology alumni celebrate AFA Balance & Hearing Institute
Posted: December 12, 2013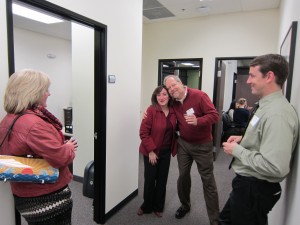 Audiology alumni gathered Dec. 5 at the AFA Balance & Hearing Institute to learn more about ATSU's new audiology clinic. Tabitha Parent Buck, AuD, chair of Audiology, and Troy Hale, AuD, '08, institute director also provided updates from the audiology department. Below are a few highlights:
The AFA Balance & Hearing Institute opened in February 2013. Not only does it offer a full range of hearing and balance care for patients of all ages, but students also receive business practice experience, collaborative interdisciplinary learning, and scholarly research opportunities. Many thanks to our alumni who helped make the clinic a reality.
Alumni comprise a family of more than 3,000 transitional AuD alumni and 77 entry-level AuD alumni. Approximately 15 students are enrolled into the online transitional program every quarter and there are about 100 online students at any given time. The program will begin to be phased out, with the last applications being accepted on January 31, 2015. If you know of any audiologists interested in earning their transitional degree, please encourage them to learn more and apply to our program.
As an alumni, some ATSU Memorial Library services – including three free articles per month – are still available to you. The library can be accessed through the alumni section of the ATSU portal. If you have lost access to the portal, please submit a request. We are also adding library access for audiology preceptors, and information about how to access our valuable library resources will be coming to preceptors soon.
We will be hosting another alumni reception at the AAA AudiologyNow Convention in Orlando, Fla., on ">March 26, 2014 starting at 4:30 p.m. Additional details will be sent out shortly.
The Alumni Scholarship Challenge will help ensure future generations of students continue to receive quality education and provide care to our patients. There are several simple ways to show your support. Learn more and make a pledge.
Additional photos can be viewed on the alumni Facebook page.