ATSU's Wilderness Medicine Club promoting interprofessionalism in the outdoors
Posted: May 6, 2023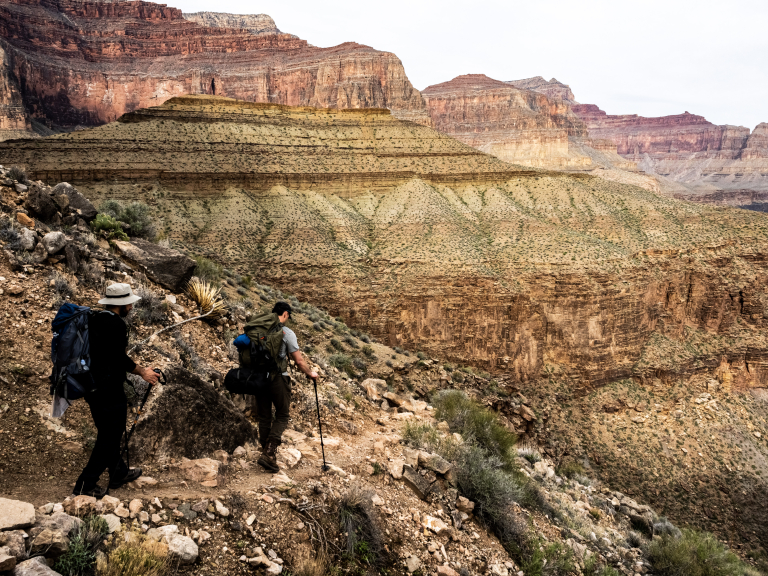 Members of ATSU's Wilderness Medicine Club hiking the Grand Canyon on March 18, 2023.
Emergencies can happen anywhere – especially when you least expect it. When medical emergencies happen in the wilderness, or in other areas with little to no resources, knowing how to react quickly can sometimes mean the difference between life and death.
At A.T. Still University, the Wilderness Medicine Club was founded in 2019 as a way for students to develop the skills necessary for such outdoor emergencies. One of the University's many registered student organizations, the club enables students to combine their passions for healthcare and the outdoors, while exploring the wilderness and learning how to recognize, treat, and prevent outdoor injuries and illnesses.
"What does wilderness medicine mean? For us, it means understanding that medicine can happen in these austere environments, which just means areas that aren't the hospital, that aren't the clinic, that aren't the emergency department," explained ATSU-School of Osteopathic Medicine in Arizona (ATSU-SOMA) student and club president Justin Morin, OMS IV.
With an emphasis on interprofessional collaboration, the club aims to incorporate all specialties of medicine into its activities, and students from all programs based on the Mesa, Arizona, campus are invited to join.
Many students choose to join the club because of their passion for the outdoors, while others may have more personal reasons for joining.
When ATSU-SOMA student Lauretta Suneborn, OMS I, first moved to Arizona from Virginia, she and her family took the opportunity to go hiking together. But what started out as a mile-and-a-half long adventure almost turned into a serious medical emergency when two family members started to become overheated.
This experience heavily influenced Suneborn to join Wilderness Medicine Club. She explained, "I thought, what other scenarios are there that I need to know about?"
After joining, Suneborn learned more about the severity of heat stroke and dehydration and how to prevent them from occurring, and has since used this experience as an educational opportunity to help prevent others from making those same mistakes.
Each month, the club also aims to host a new guest speaker, both online and in person, to speak on the numerous scenarios that can arise in a variety of environments.
At one of the club's most recent guest speaker events, David Elliott, MD, spoke on his time working with Doctors Without Borders. Dr. Elliot shared his experience of completing international humanitarian work as a rural surgeon, working in areas with little to no resources.
"It was really, really neat and opened our eyes up to how we can use our skill set as doctors worldwide to help people who really need it," said Easton Bents, OMS I.
In addition to hosting guest speaker meetings, the club organizes group activities, where they combine learning life-saving skills with new outdoor adventures. In early April, the club hiked the Bulldog Canyon trailhead in the Tonto National Forest, which is located just 30 minutes east of campus.
"It was perfect timing. The California poppies were blooming, there was yellow and green pretty much everywhere. The Superstition Mountains looked amazing. We got there nice and early and hiked into the early afternoon," said Suneborn.
Also joining the club members on the trip was a local firefighter and medic, who shared his expertise with students on wilderness medicine. Students learned about many of the preventable and predictable emergencies that can arise in the desert wilderness.
Through these experiences and skill-building activities, students can feel more confident in their skills as they go into their future careers in medicine, no matter their program or year of schooling.
Bents said, "Exploring the different aspects of wilderness medicine, and how that can create a yearning to be more curious about how we can use materials that we're not used to using, or being in environments we're not used to being in, is in a way preparing us for rotations where we might not know what's going to happen or go on. I think it helps us keep an open mindset towards being more adaptable."
For Morin, one of the biggest takeaways during his time in the club has been learning to adapt to unfamiliar environments and situations. As a fourth-year medical student, he had the opportunity to complete a sub-internship rotation, in which he found himself in a new and very unfamiliar environment.
"Going into the emergency department in a place I've never been before and I don't know anybody, I found myself to be pretty intimidated. What I took away from the club was knowing all these lessons of how to handle wilderness emergencies, how to respond to them, and be confident in that, I think translated to me being able to step into those settings and say, I may not feel comfortable, but I'm going to fake it until I make it, for lack of a better word," he said.

For more information on joining ATSU's Wilderness Medicine Club, visit the organization's Engage profile here.