ATSU's St. Louis Dental Center employees honored with award, service recognitions
Posted: June 21, 2022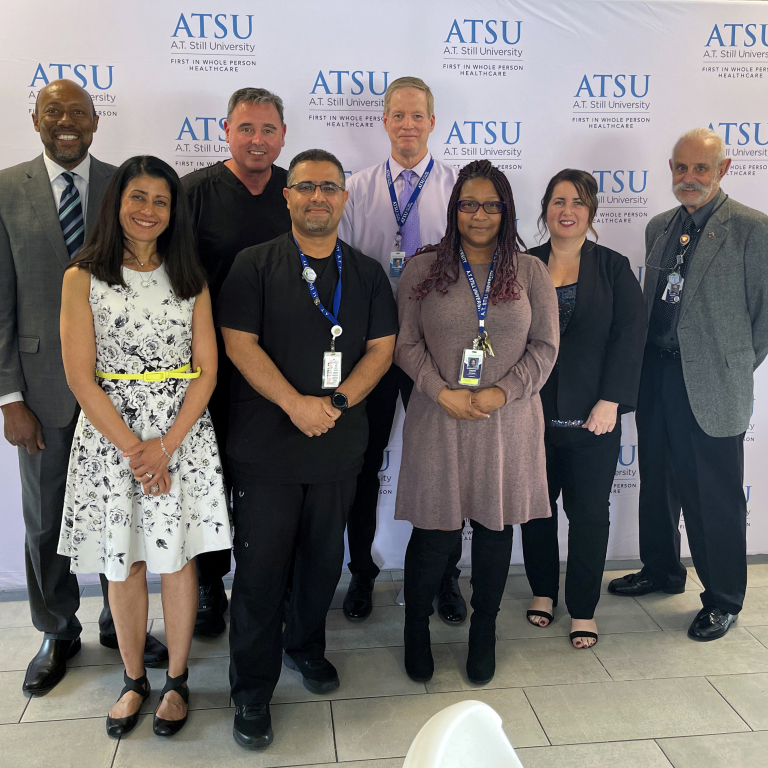 ATSU administration, faculty, and staff at the St. Louis Dental Center pose with Craig Phelps, DO, '84, president.
A.T. Still University (ATSU) honored faculty and staff achievement and anniversaries during the 2022 St. Louis Dental Center Employee Recognition and Award Ceremony.
David Greaves, DDS, assistant director, critical care unit 2, assistant professor, ATSU-Missouri School of Dentistry & Oral Health (ATSU-MOSDOH) clinical education, was presented with the Elsie Gaber Compassion and Integrity Award. 
"Dr. Gaber's compassion and integrity are her core values, reflected in her love and interaction with students, colleagues, and the University," said Dwight McLeod, DDS, MS, ATSU-MOSDOH dean. "This award supports her belief in lifelong learning and passing the gift of compassion and integrity to future generations."
Additionally, the following faculty and staff members were honored for reaching five years of service with ATSU-MOSDOH: Hesham Abdulkarim, BDS, MSD, ICOIF, ICOIM, assistant professor; David Dunivan, DMD, assistant professor; Poonam Jain, BDS, MS, MPH, vice dean for clinical affairs and advanced dental education; Laura Johnson, senior administrative assistant; Dwight McLeod, DDS, MS, dean; Romana Muller, RDH, BA, MSDH, assistant professor, hygiene; and Herbert Silva, DMD, comprehensive care unit director, assistant professor.