ATSU's Harm Reduction Club advocating for care through promotion of harm reduction practices
Posted: May 23, 2023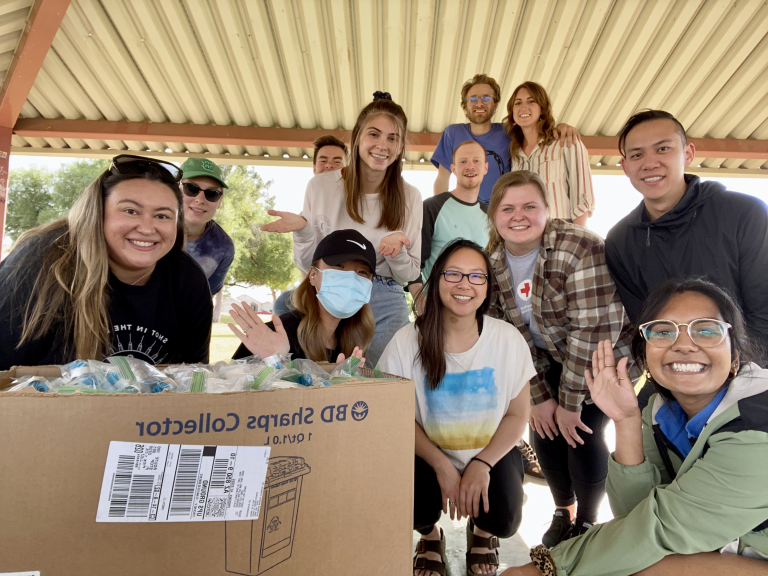 At A.T. Still University, compassionate, whole person healthcare is at the very core of each program's curriculum. In addition to what students learn in the classroom, many of the University's registered student organizations further encourage students to become caring, community-minded healthcare providers through service within the community.
Founded in 2021 by ATSU-School of Osteopathic Medicine in Arizona (ATSU-SOMA) students Radhika Edpuganti, OMS II, Rebekah Hwang, OMS II, and Andrew Nelson, OMS II, ATSU's Harm Reduction Club aims to create a positive impact on the community through the implementation of harm reduction practices.
"I spent a lot of my pre-medical school years working at a federally qualified health center in downtown Portland. I was pretty embedded with the community that I ultimately wanted to serve and connect with, and that was in line with a lot of the mission ATSU-SOMA likes to uphold," Nelson said of the club's beginnings.
"I did a lot of syringe exchange work in Portland, and that exposed me a little bit to the harm reduction scene here, so having that life perspective a little bit led itself into wanting to foster that type of continued learning for myself, but also including other students in that role as well. So I connected with some of the other first years here, and we got the club up and running," he added.
Harm reduction is a set of practices and policies that focus on reducing the negative consequences of drug use while educating and improving the health and safety of people who use drugs. Some common forms of harm reduction practices include sterile needle exchanges, overdose education, and fentanyl testing.
The club promotes health equity while educating and supporting communities through harm reduction-related volunteering, educational workshops, and community engagement. The club is open to all programs based on the Mesa, Arizona, campus.
"If you're interested in working within marginalized communities, have done any sort of policy, or have an advocacy-minded heart, I think those are the things that this club brings, both from an educational opportunity as well as an engagement opportunity. I think that was the goal of this all along, was to really find avenues to get out into the community and have some sort of adjunct support for our medical education," Nelson added.
Removing the stigma around addiction, specifically within marginalized and stigmatized communities, allows individuals to continue to use drugs if they choose while minimizing the possibility of misuse, including overdose.
Those struggling with drug addiction may face numerous barriers when seeking treatment. Harm reduction practice encompasses treating all with dignity and respect, and through this, access to treatment can become more attainable, specifically for those within marginalized communities.
"I learned how supportive ATSU can be to alternative training modalities and alternative community engagement, and I think that's something this club and this community and this group of students will continue to push and advocate for is that heartfelt, community-led education," Nelson said.
Throughout Arizona and the rest of the country, opioid overdoses are on a massive rise. In Maricopa County alone, the overdose death rate for synthetic opioids, such as fentanyl, increased by over 6,000% between 2012-2021.
According to the National Institute on Drug Abuse (NIDA), research over the past few decades has shown some harm reduction strategies have helped to reduce the number of deaths from overdoses and emergency department visits and prevent the transmission of diseases.
Since the club's founding, they have partnered with Shot in the Dark (SITD), a Mesa-based collective of volunteers who work directly on the ground by providing clean syringes, syringe disposal, Naloxone, educational resources, treatment referrals, and more.
SITD "has really been a pillar for nurturing that bridge between students and community engagement," Nelson said, and provides students with volunteer opportunities both directly on the ground and in other ways.
"We've also built kits too. We've done all sorts of things where we've met in a park on a Saturday; the volunteer coordinator at SITD helped explain what goes into the kits and what is needed. That's been something we've done for folks that maybe don't have time to go out on a weekday, or don't necessarily feel comfortable doing that, but want to learn a little bit more about what harm reduction is," Nelson said.
In addition to on-the-ground volunteer work, the club also hosts guest speakers and workshop activities. The club aims to host guest speakers with lived experience, to truly understand the impact harm reduction can have.
Last year, the club organized a Mesa campus-wide Naloxone and harm reduction training workshop for students, faculty, and staff. Naloxone, also known as Narcan, is an emergency medication that rapidly reverses opioid overdoses.
Through a 90-minute training session, attendees learned about the pharmacology of Naloxone and participated in a Q&A session with five speakers who have experienced homelessness, giving students a chance to participate in a truly community-led discussion.
"One of the things that was most challenging is that we really wanted to compensate our participants, so we had to be really creative with finding ways to pay folks the same guest speaker rate that that any other educated speaker would have. That's the challenging piece, is being creative and how to learn from the community but also compensate accordingly," Nelson explained.
The club aims to truly address the discrimination and marginalization faced by those in the community who use drugs. And although a newer club, the Harm Reduction Club has big goals, and is looking forward to developing new and creative ways to advocate for harm reduction practices and policies.
"I think there's infinite things we will constantly learn throughout our medical education, but for me as a future physician wanting to really provide good patient-centered care, that's something you can't always just learn. There's a piece that really needs to be felt and understood, and I think this club provided me and my other classmates an opportunity to build that connection," Nelson said.

For more information, visit the Harm Reduction Club's Engage profile here.