ATSU's DHSc program opens the door for upper-level positions in healthcare and academia
Posted: November 11, 2022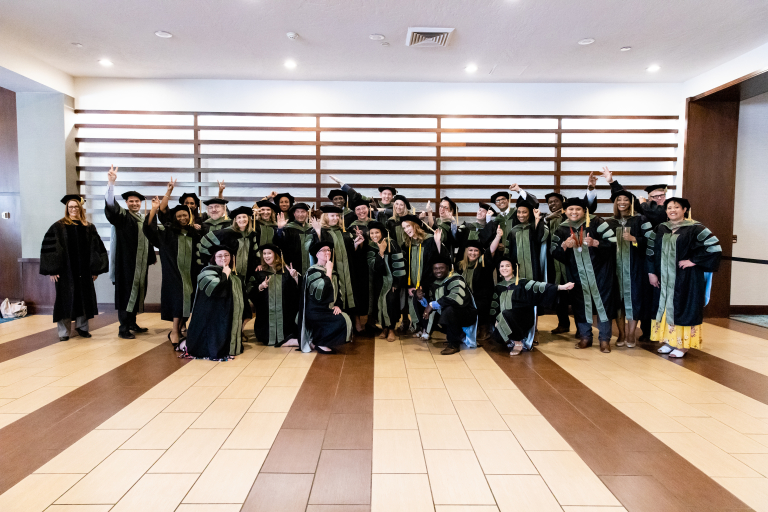 ATSU-CGHS Doctor of Health Sciences graduates with program faculty Kathleen Mathieson, PhD, CIP and Jeffrey Alexander, PhD, FAACVPR, in May 2022.
A.T. Still University-College of Graduate Health Studies' (ATSU-CGHS) Doctor of Health Sciences (DHSc) online program is a unique approach to doctorate-level health education, which opens the door for upper-level positions in healthcare and academia.
In this advanced online health science degree program, students learn how to develop and enhance the professional skills they need to serve as leaders in not only healthcare, but in a wide variety of fields.
Faculty in the program stand out as leaders and experts in fields of healthcare administration, public health, higher education, research methods, statistics, infectious disease, pathology, and more.
"This program includes a very diverse curriculum in the health sciences. The program allows students to specialize in a variety of areas. It is unique in that it is not singularly focused in public health, education, or health administration as many other programs are," said Kathleen DiCaprio, PhD, chair and associate professor of the program.
Throughout the program's curriculum, students learn project management, decision-making, and organizational leadership skills, which can be applied to professional practice upon graduation. Students also choose one of four concentration areas: global health, leadership and organizational behavior, fundamentals of education, or generalist concentration.
The health science online degree program "provides an opportunity for students and professionals from all backgrounds, from any place in the world, to come together and have discussions about needs in any community," Dr. DiCaprio said.
One of the unique aspects of the program is the diversity of job opportunities students may find after graduation. With a curriculum promoting the application of research to a broad range of professional practices, graduates can find leadership roles in healthcare, academia, and more.
"We have students that become supervisors and managers in healthcare systems, in nursing, in occupational therapy. We have students apply for PhD programs after this, and we have students that earn fellowships in research in various health sciences," Dr. DiCaprio said.
As an asynchronous online program, students have the ability to maintain their careers while working toward their degrees by structuring how they approach their learning. This also provides a unique learning experience for students and faculty, as they can connect from around the world.
"It makes for discussions on a national and international level, without leaving the comforts of your home. We had a student in Italy who was talking to us about the obstacles and social determinants of health in Italy, and in the same class we had an EMS professional in Canada, where the healthcare system is very different," Dr. DiCaprio said.
"We really foster that opportunity for interprofessionalism by embedding group work and opportunities for students to collaborate with each other as a means to not just learn from a classic textbook, but also to to actively learn with their peers."
All the courses in the curriculum are Quality Matters Certified, and prioritize competencies that help students establish strong foundations of knowledge as well as explore and develop strategies to approach current challenges in their respective fields.
For example, one of the required courses in the curriculum is titled "Healthcare Outcomes," where second-year students learn strategies for quality improvement in areas of the health sciences, including those associated with healthcare leadership, quality care, and diversity in healthcare.
Like many ATSU-CGHS online programs, there is also a master's program students may transfer credits from. Graduates of the Master of Health Sciences (MHSc) are able to transfer up to 15 credits toward the DHSc degree.
Dr. DiCaprio said she is excited to see how the program evolves in the coming years.
"The program is establishing collaborations in select specialties in the health sciences to allow students greater opportunity to learn more about other fields. We're on track to create additional tracks and concentrations for our program," Dr. DiCaprio said.