ATSU's College of Graduate Health Studies celebrates 250 graduates in class of 2022
Posted: May 27, 2022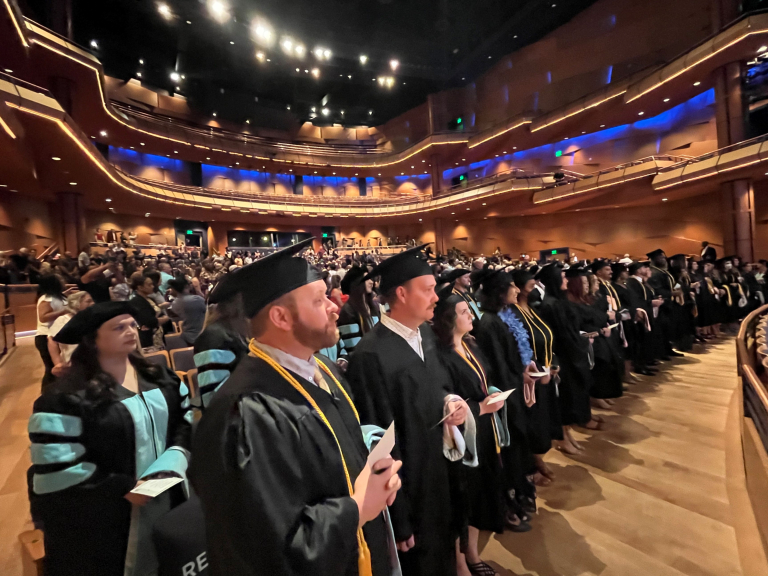 Students prepare to become graduates at ATSU's College of Graduate Health Studies' commencement ceremony.
A.T. Still University's College of Graduate Health Studies honored 250 graduates who earned masters or doctoral degrees during a commencement ceremony Friday, May 27, 2022, in Mesa, Arizona.
Two graduates earned master of education in health professions degrees, 10 earned master of health administration degrees, 28 earned master of public health degrees, 35 earned master of public health-dental emphasis degrees, 50 earned master of science in kinesiology degrees, 42 earned doctor of education in health professions degrees, 19 earned doctor of health administration degrees, six earned doctor of health education degrees, and 58 earned doctor of health sciences degrees.
Norman Gevitz, PhD, senior vice president-academic affairs for ATSU, commended graduates on their accomplishments.
"Graduates, you now have the tools and capacity to continue to make a difference in your communities, and in the lives of the people you serve," Dr. Gevitz said.
The commencement address was delivered by Frank LoVecchio, DO, MPH, FACEP, medical director of clinical research, Arizona State University College for Health Solutions. He also works as principal investigator for Infectious Disease Network studies, a group of emergency departments funded through the Centers for Disease Control and Prevention to conduct infectious disease trials. These studies include MRSA, C-difficile, and cellulitis. He is board certified in addiction medicine, medical toxicology, medical forensics, and emergency medicine.
In addition, Dr. LoVecchio is a site investigator on seven National Institutes of Health grants awarded through the Emergency Medicine Network, including grants for work on influenza screening. He is experienced in the conduct of research protocols in the emergency department. Currently, he is performing research about drug development, drugs of abuse, COVID-19, infectious diseases, and environmental illness.
Dr. LoVecchio noted many graduates sat in the auditorium with a plan for the future, but reminded graduates life will at times be hard and things will not necessarily progress on their terms.
He reminded graduates to use lessons learned in recent years, through the COVID-19 pandemic, to continue forward.
"You've got to go with the flow. Things are going to hit you from all different sides," Dr. LoVecchio said. "The one thing I want to tell you is you have to adapt.
"The way to get through this all is to be resilient and have grit. Things are not going to be on your timeline. Be resilient. Have grit."
Lynda Tierney Konecny, DHEd, DHSc, MCHES, member, ATSU-CGHS Alumni Association chapter, inducted graduates as members of the ATSU Alumni Association and College's alumni chapter.
"After years of hard work and countless anxious moments, you are graduating," Dr. Konecny said. "You and your family can be justifiably proud of your sacrifices and accomplishments.
"As you celebrate this special day and your achievements, let it be a time of reflection on your experience with A.T. Still University, as well as on your hopes and aspirations for the future. Now you are a permanent part of our A.T. Still University family. You join alumni living throughout the world."