ATSU's CCPA Medical Spanish Club preparing students to deliver multilingual care
Posted: September 20, 2023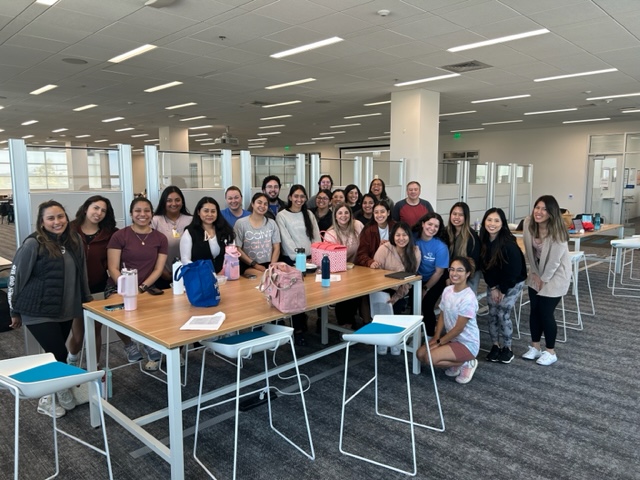 Building a trusting provider-patient relationship is essential to ensuring all patients are seen and heard, no matter the healthcare field or specialty. But when there are barriers to communication, it can be difficult to deliver quality care, leading to more negative health outcomes among some of the country's most vulnerable communities.
A group of students from A.T. Still University's College for Healthy Communities (ATSU-CHC) Central Coast Physician Assistant (CCPA) program is working to address this by strengthening their Spanish language skills in the recently founded Medical Spanish Club.
"One of the reasons why ATSU is so special is because I love how they focus on whole person healthcare, and that includes everyone, especially the underserved communities," said club co-founder and president Louisa Tostado, PA, '24.
She added, "Latinos are part of that underserved community, and I think it helps bridge that gap to where you're going to be serving them so you're trying to make the extra step to make those patients more comfortable."
Spanish is the second most commonly spoken language in the U.S., and learning how to effectively communicate in a person's preferred or native language can not only build deeper trust, but can ensure proper diagnoses are made.
Tostado previously worked as a Spanish translator for a medical clinic, where she realized that medical Spanish was almost its own separate language. As she entered her studies in the CCPA program, she also realized the importance of knowing Spanish as a provider, specifically in preparation for the clinical portion of the program.
During their first semester, Tostado partnered with fellow second-year student and current club vice president Gabriela Zamora Bonilla, PA, '24, to found the Medical Spanish Club in March 2023. Both Tostado and Zamora Bonilla were shocked by the outpouring of support and interest they received for the club.
"I remember the first meeting felt like something surreal, because we didn't expect that many people to come," Tostado said. "It was really incredible to see how many people came out and wanted to become a part of this."
Since March, the club has aimed to hold meetings once a month, where students come together to learn anatomical terms and practice conversing in Spanish, with a goal to not only better prepare themselves for the clinical phase of their education, but to better prepare for practice as PAs after graduation.
"It can be hard to learn a new language, and then you could get discouraged, but we really wanted to just make it welcoming and a safe space, whether it's for an hour a month, for people to learn a new language," said Zamora Bonilla.
She added, "I feel like most Hispanic communities, they're just happy that you tried and are trying to understand and get rid of that cultural barrier."
At a recent club meeting, students also heard from Cristina Tipei, MSPAS, PA-C, assistant professor, about her experiences and tips for providing care for Spanish speakers.
"Even if students don't understand Spanish, even if they're not completely fluent in Spanish, or different dialects within Spanish, we're helping them feel comfortable being uncomfortable," said the club's faculty advisor Brandy Brooks, EdD, PA-C, MHS, BS, assistant professor.
Dr. Brooks explained that the club doesn't just focus on learning Spanish vocabulary, but also focuses on digging deeper into how to understand a patient when there is a language barrier, and how to use partial language skills to bridge gaps in understanding.
She added, "Just like in any language, you can say something three different ways, but if you're not listening, or you're not pulling back and helping understand the patient and what whole healthcare is, how do you help that patient? And how do you then help that community continue to thrive?"
Tostado and Zamora Bonilla will both be leaving for their clinical rotations next year, and although they are sad to be stepping away from the club, they are looking forward to putting some of their new medical Spanish skills they've learned into practice, and passing the club off to the next cohort of students.

For more information, visit the CCPA Medical Spanish Club's Engage profile here.