ATSU welcomes first Central Coast Physician Assistant program students
Posted: September 27, 2021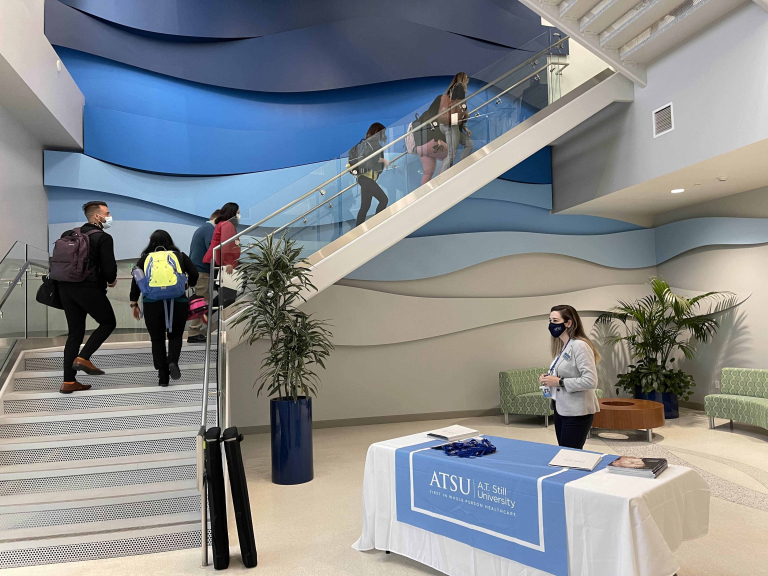 A.T. Still University of Health Sciences (ATSU), a comprehensive health professions graduate education institution, along with local officials and guests welcomed the inaugural class Monday, Sept. 27, 2021, to its Central Coast Physician Assistant program (CCPA) in Santa Maria, California.
The new program will educate culturally humble, diverse physician assistants to serve the primary care needs of medically underserved communities. This furthers ATSU's mission as a learning-centered University dedicated to preparing highly competent professionals through innovative academic programs. The University is committed to continuing its osteopathic heritage, focusing on whole person healthcare, scholarship, community health, interprofessional education, diversity, and underserved populations.
"ATSU is proud to welcome the Central Coast Physician Assistant program's inaugural class, and is thankful for the many individuals and organizations making today possible," said ATSU President Craig Phelps, DO, '84.
The 24-month, entry-level CCPA program seeks applications from first-generation college students, historically underrepresented groups, economically disadvantaged students, and Hometown Scholars, an ATSU initiative in which community health center leaders endorse applicants who have already demonstrated a desire to provide medical services in underserved or disadvantaged communities.
Students arrived for orientation today at ATSU's new 27,000 square foot state-of-the-art facility, which includes a large learning theater, clinical simulation rooms, library space, student break room, and faculty and staff workspaces. Administrative offices for Community Health Centers of the Central Coast, Inc., an instrumental partner in developing the Central Coast Physician Assistant program, are located in the facility as well.
CCPA students will spend their first 12 months in Santa Maria, engaging in facilitated learning with case studies, interactive learning, projects, and preclinical community experiences. For their final 12 months, ATSU has collaborated with the National Association of Community Health Centers to integrate student clinical experiences in 20 community health centers.
Clinical practice experience areas include family medicine, internal medicine, pediatrics, emergency medicine, women's health, surgery, and behavioral health.
On July 15, 2021, the Accreditation Review Commission for Physician Assistant Education (ARC-PA) granted Accreditation-Provisional status to the Central Coast Physician Assistant program sponsored by ATSU. Accreditation-Provisional is an accreditation status granted when the plans and resource allocation, if fully implemented as planned, of a proposed program, that has not yet enrolled students, appear to demonstrate the program's ability to meet the ARC-PA Standards or when a program holding Accreditation-Provisional status appears to demonstrate continued progress in complying with the Standards as it prepares for the graduation of the first class (cohort) of students.
Accreditation-Provisional does not ensure any subsequent accreditation status. It is limited to no more than five years from matriculation of the first class. The program's accreditation history may be viewed on the ARC-PA website.
To view complete, detailed admissions requirements and prerequisites, please visit atsu.edu/ccpa-reqs.