ATSU students' interprofessional service shows commitment to University's mission
Posted: November 15, 2022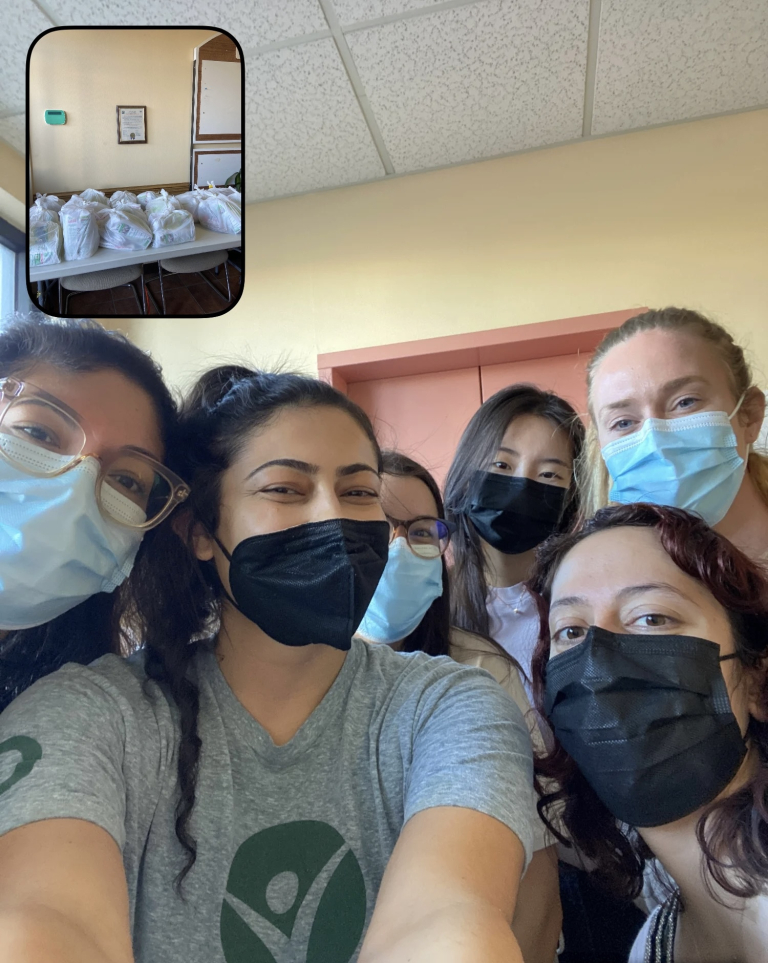 ATSU students and volunteers with the Mixteco Indigena Community Outreach Project with packed food bags.
An A.T. Still University-School of Osteopathic Medicine in Arizona (ATSU-SOMA) student is bringing together students from different colleges and cohorts with one goal in mind – service.  
Ashley Lau, OMS IV, is currently based at ATSU's Santa Maria, California campus. Along with students from her own cohort, Lau organized students from different backgrounds to volunteer together, creating the first demonstration of interprofessional service between ATSU students and the Mixteco Indigena Community Outreach Project (MICOP).
"Because we're all learning from the community and we're all a part of this community, I wanted to reach out to other colleges within the University. We recruited physician assistant (PA) students at ATSU-College for Healthy Communities (ATSU-CHC), and we're also looking for more pre-med students," Lau said
"We're trying to partner with everybody so that we're creating a community service organization of people that are in different places and wanting to help," she explained.
MICOP is a community outreach program that aims to support, organize, and empower indigenous migrant communities in California's Central Coast. Over 170,000 indigenous migrants from the Mexican states of Oaxaca, Guerrero, and Michoacán are estimated to live in California.
Many indigenous migrants face a myriad of challenges, specifically language barriers.
"The Mixtec community mostly communicates in Mixteco and other indigenous languages, but there's a limited number of speakers in our area that speak both Mixteco and Spanish. By us doing the behind-the-scenes labor, it helps free them up to be able to communicate more effectively with the community," Lau said.
For this last volunteer project, several ATSU-SOMA students, one ATSU-CHC PA student, and two local pre-med students who are planning on applying to ATSU-CHC in the future, helped direct lines and distribute food and diapers to hundreds of local families.
Not only does interprofessional volunteering help those in need, but it also helps the students form closer relationships and strengthen their teamwork skills.
"I think we all have a shared mission, which is generally to support the health and happiness of our communities. I think we do this really well in the clinic setting, but we don't often get to meet each other outside of the clinic and get to bond with each other," Lau said.
"I feel like community service is really a good way for us to show our shared commitment to the community and also learn about each other and spend time with each other outside of the clinic setting."
Lau explained she hopes to grow the size of the group so they can get involved with larger and more frequent food distributions and ensure the project continues after graduation. She also said there are a number of organizations in the Central Coast area the group hopes to get involved with in the future.
"The reason why I volunteer specifically is when you're going through your education or you're working, then it's really easy to become complacent about why you're pursuing a long term goal. I think by frequently connecting with the community, you realize that your passion for doing this is to help people, and that allows you to stay focused on what matters," she said.