ATSU staff, faculty learn benefits of osteopathic manipulative medicine
Posted: September 18, 2017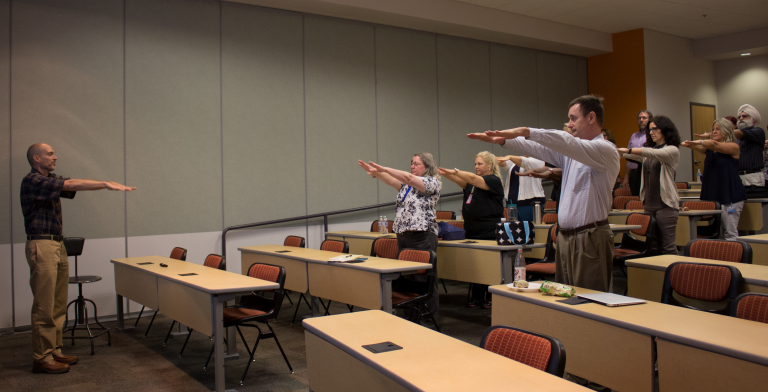 As part of this month's A.T. Still University's (ATSU) Still Healthy session, David Shoup, DO, associate professor, taught staff and faculty about osteopathic medical practices, and their benefits to our body, mind, and spirit.
During the presentation, Dr. Shoup discussed the origin of osteopathy and the philosophies surrounding different osteopathic practices. He also presented information on diet, nutrition, supplements, and exercise as a body, mind, and spirit osteopathic approach. Dr. Shoup also talked about the new A.T. Still University Osteopathic Medicine Center Arizona as a source for people to receive total osteopathic care.
To help instill the benefits of osteopathic medical treatment, Dr. Shoup led the group of ATSU staff and faculty in minor, daily exercises to help them get in tune with their bodies. Many of the exercises included deep breathing, stretching, and balancing, so the staff and faculty could understand how the osteopathic treatments would work with the human body.