ATSU-SOMA's Residency Readiness preparing graduates for the next step in their medical careers
Posted: April 28, 2023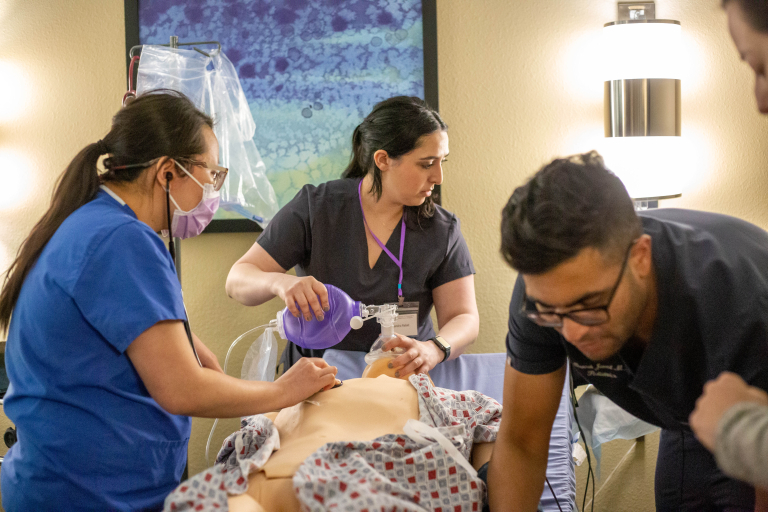 For fourth-year osteopathic medical students, commencement season can be one of the most nerve-racking and exciting times of their lives. With the start of residency quickly approaching, many soon-to-be physicians may feel overwhelmed by this upcoming transition.
That's why A.T. Still University-School of Osteopathic Medicine in Arizona (ATSU-SOMA) developed Residency Readiness, an innovative, fully-immersive, mock residency program designed to help ease this transition for students after graduation. 
The Residency Readiness program was developed by Christina Weaver, DO, '14, assistant dean, innovation and clinical curricular integration, assistant professor, clinical medicine, ATSU-SOMA.
Residency is an incredibly important milestone for recent graduates, as they will begin to provide care and work directly with patients for the first time outside of an academic setting. Depending on the specialty, residencies can range in length from three to seven years, and this program helps students to feel more grounded in their new roles.
Residency Readiness 2023 was held from April 2-17 at the Hyatt Place Hotel in Gilbert, Arizona, where the entire first floor of the hotel was converted into patient rooms and debrief rooms.
Over the course of four sessions, each lasting two and a half days, students lived and worked in the hotel and were fully immersed in a simulated hospital environment. Each student worked one night shift and two day shifts, each filled with multiple team-based simulations, hands-on skills stations, and practice of critical communications skills.
In one of the simulations, students entered the room expecting to treat a patient in cardiac arrest, but were surprised when they instead found a patient in labor. With no preparation, students had to quickly work together as a team to ensure the patient safely delivered her baby.
These unexpected situations truly help to prepare students for life as a new intern by focusing on essential skills such as quick, critical thinking and team communication.
Although rigorous, Residency Readiness prepares ATSU-SOMA graduates with confidence and an unmatched advantage on their first day of residency, where they will be ready to begin delivering high quality, whole person healthcare.
Check out more photos from Residency Readiness 2023 below!