ATSU-SOMA students participate in annual poverty simulation
Posted: October 18, 2023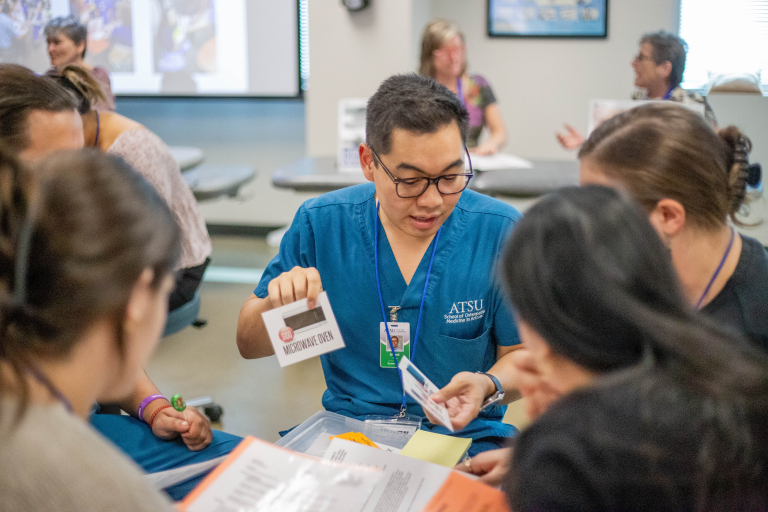 First-year medical students at A.T. Still University's School of Osteopathic Medicine in Arizona (ATSU-SOMA) participated in the University's tenth annual poverty simulation on Wednesday, Oct. 4, 2023.
Organized by Lorree Ratto, PhD, director of medical simulation, the simulation prepares students to better serve their future patients by building empathy and teaching students the importance of compassion in healthcare.
"The goal is to give our students that experience of how people living in poverty have day-to-day challenges and issues that they have to contend with. We never presume that our students ever came from that position, but we want to make sure they know the population they'll be seeing at their community health centers," Dr. Ratto said.
Each student was presented with a role and a variety of real-life scenarios they had to address with limited resources.
In order to simulate a community experience, faculty, staff, volunteers, and standardized patients acted as social service workers, bankers, police officers, and more, who interacted with students throughout the course of the activity. In addition, four community volunteers from HandsOn Greater Phoenix participated as well.
"I think it's a great way for us to lean into our understanding of some of the health disparities and have a more hands-on approach. We're all from really different backgrounds, so if you haven't experienced it before, it's a great way to simulate it," said Devan Magalski, OMS I, who played the role of a public school teacher in this year's simulation.