ATSU-SOMA students named to positions in AOA and AACOM
Posted: April 15, 2014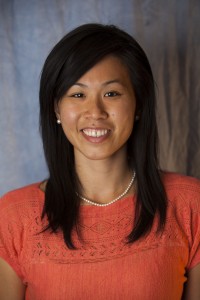 A.T. Still University School of Osteopathic Medicine in Arizona (ATSU-SOMA) has reason to be proud these days. Two of ATSU-SOMA students were recently named to prestigious positions with the American Osteopathic Association (AOA) and the American Association of the Colleges of Osteopathic Medicine (AACOM).
Alice Chen, OMS IV and pre-doctoral osteopathic teaching fellow, was selected to serve as the next student representative on the AOA Board of Trustees. There is one student and one resident position on the Board. She will be representing all U.S. osteopathic medical students. Her term begins July 2014.
"This is a huge honor," said Chen. "I look forward to accurately and intelligently representing the student voice, especially amidst the current changes that are taking place in our osteopathic profession. While I will be working on multiple fronts, I am eager to join the discussion on the recent decision to pursue a unified accreditation system. In this role, I hope to express all student opinions in the decision- making process."
Tim Lemaire, OMS II, ATSU-SOMA, was selected as first vice chair for 2014-15, AACOM Counsel of Osteopathic Student Government Presidents (COSGP). The COSGP comprises a general counsel of the Student Government Association presidents from each osteopathic school across the country and serves as the officially-sanctioned representing voice of all 20,000 osteopathic medical students to AACOM and the AOA.
"I am very excited to be elected," said Lemaire. "I will be working closely with Alice Chen, the incoming student representative to the AOA Board of Trustees on the AOA Counsel of Interns and Residents, as well as serving as the student representative to various bureaus, counsels and committees. I realize that this is an exciting time for our profession and will be reaching out for feedback and opinions. Thank you for all of your encouragement and trust."