ATSU-SOMA students, alumni educate community health workers in rural Peru
Posted: September 21, 2022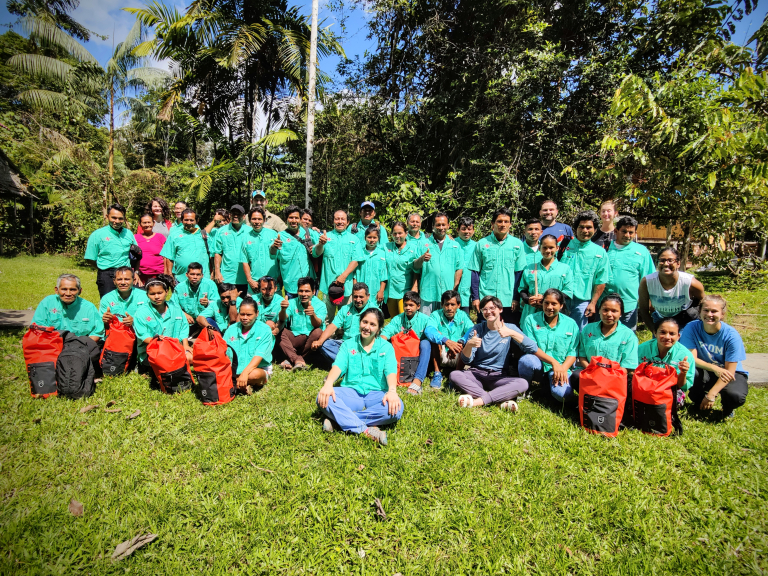 Deep in the Peruvian Amazon, a group of A.T. Still University-School of Osteopathic Medicine in Arizona (ATSU-SOMA) students and alumni spent a week providing medical education to local health workers, helping communities sustainably foster long-term healthcare solutions.
In July 2022, nine members of Capacidad, a student-led global health honor society, and MGY, a non-governmental organization that works with communities to train and educate community health workers (CHWs), conducted a training program in Peru for CHWs in isolated and underserved communities.
"It was just amazing to see the CHWs super excited and so willing to learn and to be this person for their communities," said Ashley Oalickal, MS, OMS IV.
"It takes a lot of work to get some of these skills down, but they were very willing to do whatever they could for their communities. We're not just going in and providing care and leaving, it's a sustainable way to keep these communities thriving even when we're not there."
Many of the 34 workers were from remote communities along the Amazon River, which can typically only be reached by boat and are hours away from the nearest healthcare facility.
Throughout the week, the training consisted of educating workers on different aspects of medical care, such as taking vital signs, dosing medication, oral rehydration, and how to look for signs of a more serious disease, such as malaria. All of the education was based on the needs expressed by community members.
"We want their input and what they want to learn. We go based on their wishes, what they think are issues in their community and training them on those specific issues," Oalickal said.
The team also prepared tablets for the CHWs that were pre-loaded with important medical information and lessons they can bring back to their communities to learn more and teach others.
"There was a lot of preparation leading up to the trip, developing all the teaching modules, translating them into Spanish. Then the big thing is uploading them onto tablets that we give to the CHWs. The idea is they will use those tablets to learn more and then we will reassess them next year to see how much they retain," Daniel Muller, MPH, MS, OMS IV, said.
The group partnered with Project Amazonas, a nonprofit organization dedicated to humanitarian, conservation, education, and research activities in the Peruvian Amazon. Along with providing boat transportation and lodging for the group, they recruited the community health workers who attended the training.
Oalickal and Muller said their work in community health centers (CHCs) while at ATSU-SOMA helped prepare them for this trip by teaching them how to care for various patients who often had not had proper healthcare.
"So much of the work in a CHC is educating patients on what's going on…Things like that we get a lot of practice in at the community health centers, and that's basically what we were doing in Peru. We weren't treating them, but we were explaining the same things to people who have no scientific background. I think all that extra time we put in at CHCs really made it like second nature," Muller said.
Five workers who attended a previous training graduated as advanced CHWs, and two were hired as on-the-ground correspondents for MGY. Each worker is now more prepared to serve as an essential provider, helping eliminate some of the health deficits faced in their communities.
Although next year's trip is not officially scheduled, MGY, Capacidad, and Project Amazonas plan to continue working to bridge the gap in equitable healthcare through community-oriented training programs.
"There are so many organizations that just go and provide care for a week and then they leave, and there's no followup. Both of us ultimately want to go into primary care, which is a lot of long-term stuff, it's not just acute treating something and saying goodbye. The sustainability of it, empowering the community there to learn to care for themselves. The ultimate goal is that we don't have to go there anymore, because they're sufficient," Muller said.