ATSU-SOMA student named National Student DO of the Year
Posted: February 16, 2016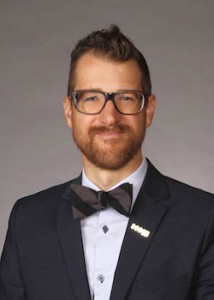 Tim Lemaire, OMS IV, ATSU-SOMA, has been named the 2015-16 National Student DO of the Year by the Council of Osteopathic Student Government Presidents (COSGP), the student council of American Association of Colleges of Osteopathic Medicine (AACOM). Lemaire was chosen from among 38 student leaders across the U.S. The award is given to a student who best exemplifies leadership, commitment to community service, dedication to the profession, professionalism, and embodiment of osteopathic philosophy throughout their medical school career.
For this year's essay, students were asked to reflect on their own resiliency during their medical education and how this will empower them as a physician. In his essay, Lemaire shared a story about a family crisis. Since Lemaire was also navigating the rigors of medical school demands at the time, he realized that he would need to rely on the resource experts to get him through his son's crisis. "As I progress through my career as a physician, it is inevitable that I will face further challenges," said Lemaire. "My personal experience with a crisis has taught me to utilize the expertise of those around me and to accept the  guidance and support offered by those who are skilled  in this area."
Lemaire is currently completing a clinical rotation in emergency medicine at Northwest Regional Primary Care Association Community Health Center in Oregon. He will begin his Masters of Public Health practicum in March with Portland Bread Breakers, a homeless outreach and street medicine program in Portland. "The selection committee felt that his essay was one of the strongest examples of resiliency in medicine," said Jeffrey W. Morgan, DO, MA, FACOI, CS, dean, ATSU-SOMA. "We are incredibly proud of student doctor Lemaire for representing ATSU-SOMA and tomorrow's physician so well."
Lemaire will be presented with the National Student DO of the Year award at the annual AACOM conference in Washington D.C., on April 8.