ATSU-SOMA hosts commencement; 138 students become doctors of osteopathic medicine
Posted: May 26, 2023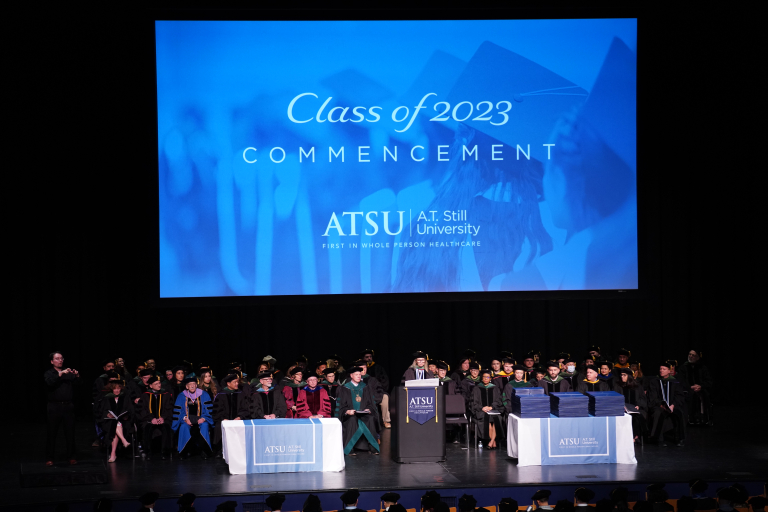 A.T. Still University's School of Osteopathic Medicine in Arizona (ATSU-SOMA) honored 138 students at a commencement ceremony on Friday, May 26, at the Mesa Arts Center in Mesa, Arizona.
In addition to their doctor of osteopathic medicine degrees, 12 students graduated with master of public health degrees from ATSU's College of Graduate Health Studies (ATSU-CGHS).
Faith L. Polkey, MD, MPH, CPE, chief executive officer at Beaufort-Jasper-Hampton Comprehensive Health Services Inc. delivered the commencement address.
Brenae Maddix, MPH, sang the National Anthem. Norman Gevitz, PhD, senior vice president, academic affairs, gave the greeting, and ATSU-SOMA Dean Sharon Obadia, DO, FNAOME, '97, provided a welcome message and introductions. Ron Yee, MD, MBA, FAAP, chief medical officer, National Association of Community Health Centers, also delivered a welcome message. James F. Keane, DO, MEd, FACOI, FACP, assistant professor, led the oath to the profession, and Gregory C. Hollick, DO, ABOFP, C-NMM/OMM, '11, inducted graduates into the ATSU-SOMA Alumni Association. ATSU President Craig Phelps, DO, '84, delivered closing remarks.
Watch the complete ATSU-SOMA commencement ceremony here.