ATSU-SOMA Anatomy department introduces augmented reality learning for first-year students
Posted: April 6, 2023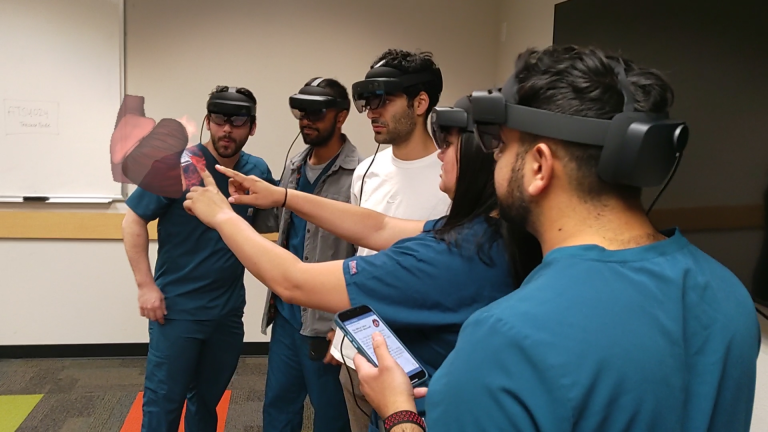 ATSU-SOMA students use the Microsoft HoloLens 2 to study anatomical structures.
The Anatomy department at A.T. Still University-School of Osteopathic Medicine in Arizona (ATSU-SOMA) recently introduced an augmented reality pilot program into their curriculum, helping the University reach innovative new heights in student-centered education.
Anna Campbell, PhD, associate professor and chair of the Anatomy department, introduced the usage of the Microsoft HoloLens 2 into the curriculum of first-year medical students. The HoloLens 2 is an augmented reality (AR) headset which enables users to view computer-generated content overlaid against their real world surroundings.
Dr. Campbell introduced this pilot program in January 2023, and since then has watched first-year medical students advance their anatomical knowledge in a brand new and exciting way.
"It's fun, but also from an educational point of view, what I see is the engagement. Anything to draw in your learner, whatever the tool is that you're using. We have a lot of different ways to teach anatomy, but whatever gets them excited about being there and about the content," said Dr. Campbell.
The HoloLens 2 adapts to the user's hands, and allows students to touch, grasp, and move anatomical diagrams that are displayed against their real world environment.
Students can immerse themselves in the complexity of the anatomical structures, and can even "peel back" layers of the internal structures in order to study the intricacies by simply stepping towards the model.
"We may have a group of four or five students who are all able to surround and explore this anatomy, and literally physically walk around it like it's a physical model in the room and view it from all angles," Dr. Campbell said.
The HoloLens 2 also comes with a designer tool, which is used by faculty members to build holographic models. For example, if the class is focusing on studying the cardiovascular system, the faculty member can pick and choose which structures of the heart and the coronary vasculature to build, label, and highlight.
Currently, the Anatomy department has 40 of the HoloLens 2 devices, and an additional two devices are available for check out in the library. The software used by the HoloLens 2 was developed at Case Western Reserve University (CWRU), where Dr. Campbell first learned about the technology.
"I got to see and hear a little from students who were using it at Case Western who spoke very highly of their experience with it. That gave me the confidence to say this is something that I think really actually could work well in addition to some of the other learning tools that we already offer at ATSU-SOMA," Dr. Campbell said.
Students will continue to go into the lab and view previously dissected cadavers, and learn about anatomy through radiology and imaging sessions. The purpose of this piece of technology, Dr. Campbell explained, is to serve as a supplement to this already robust curriculum. 
Not only has the Anatomy department introduced this new piece of technology into their curriculum, they've also developed their own companion app to help ensure students are gaining the necessary knowledge with the device.
Dr. Campbell explained, "What we have built into the app is things like formative assessments, open-ended discussion questions, things to promote interactions between the students and also their engagement with the holographic model, which is otherwise just a static piece of anatomy."
Anatomy department professor John Olson, PhD, led development of the companion app using Microsoft Power Apps, while Anthony Begay, BS, anatomy lab technician, also worked to develop the app technology.
Currently, students work in groups of four or five, with one student who serves as a team lead who guides the group through instructions given by the app.
Dr. Campbell added, "Our goal was how can we support a learner-centered approach with this technology, and the app helps promote that."
She said the department plans to fully implement the usage of the HoloLens 2 with the incoming class of ATSU-SOMA students, which means the device will be integrated across their entire first-year curriculum in all four curricular blocks.
"We're excited about this technology in particular because it allows for students to study these 3D anatomical relationships while interacting with each other," Dr. Campbell said.
"It can be student-led or a self-paced collaborative environment, and that really fits well within the current SOMA curriculum model, where we really are looking at how to enhance things like self-directed learning, self-regulated learning, as it relates to lifelong learning skills that a future physician will need to have," she added.