ATSU receives gifts in kind from Sirona Dental Systems LLC
Posted: October 9, 2014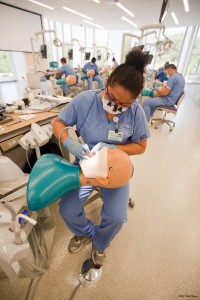 A.T. Still University (ATSU) received gifts in kind valued at almost $325,000 from Sirona Dental Systems LLC.  Having long been a leader and innovator in the dental industry, Sirona Dental Systems LLC is the world's largest manufacturer of dental technology
ATSU's Missouri School of Dentistry & Oral Health (ATSU-MOSDOH) plans to use the equipment to enhance and further educate the students during their first and second years in Kirksville. This will prepare them for their third and fourth years at the St. Louis Dental Education and Oral Health Clinic.
"The CEREC equipment from Sirona will allow MOSDOH dental students to learn the most updated technology in dental ceramics while in a pre-clinical setting, working hands-on with digital impressions, computer-assisted design, and chair side milling of final dental restorations," said Allison Crutchfield, DMD, '09, director, pre-clinical education and simulation clinic.
Sirona Dental Systems LLC also provided gifts in kind to ATSU's Arizona School of Dentistry & Oral Health in Mesa, Ariz. Students are able to utilize the newer technology for their pre-clinicals before they work on an actual patient.
"The advanced technology gives us the opportunity to educate the students and better prepare them to compete for future job opportunities," said Klud Razoky, BDS, associate dean, pre-clinical education & operations.
ATSU will continue to utilize the gifts in kind from Sirona Dental Systems LLC to provide the most advanced dental education for the students.