ATSU ranks twice among top 15 affordable online public health and healthcare programs
Posted: November 5, 2010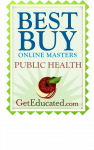 GetEducated.com, an online education consumer group that ranks online universities for cost and credibility, released its national online graduate school rankings of the most affordable online public health and healthcare schools.
The reviewers ranked A.T. Still University of Health Sciences (ATSU), with campuses in Kirksville, Mo., and Mesa, Ariz., as the No. 6 and No. 15 most affordable online degree for graduate students seeking a healthcare education. Online students nationwide will pay approximately $13,480 for an advanced master of science in physician assistant studies from ATSU.
GetEducated's online education review team uncovered that the average cost for a regionally accredited online healthcare master's, including tuition and distance education fees, is $21,652.
The online education research firm's "Best Buy" degree rankings for online healthcare master's are based on a review of 34 regionally accredited graduate schools that offer 58 different distance healthcare master's.
ATSU's online master of public health (M.P.H.) program also earned a Top 10 ranking. The M.P.H. program ranked No. 9 in affordability on GetEducated.com's list of Top 12 Ranked Affordable Online Public Health Degrees.
The online public health master's degree affordability rankings are based on a review of 18 regionally accredited graduate schools online that offer 27 online master of public health degrees.
GetEducated ranks and reviews 139 online healthcare degrees from accredited graduate schools ranging from prestigious bricks and mortar schools, such as Johns Hopkins University, to newly established online health education programs from Internet-only colleges, such as Western Governor's University.