ATSU professor delivers keynote speech at World Federation of Athletic Training and Therapy
Posted: October 9, 2017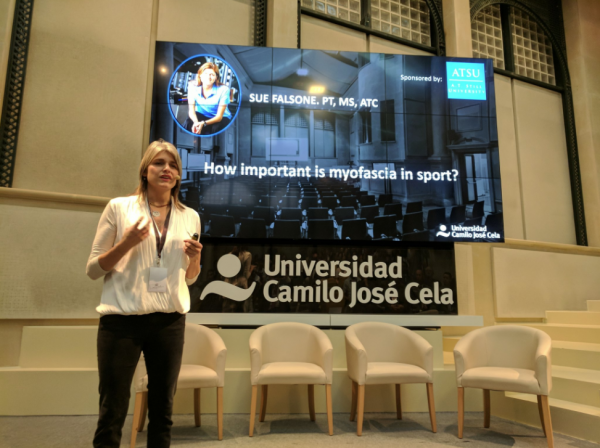 On Friday, Sept. 29, Susan Falsone, PT, MS, ATC, associate professor of Athletic Training at A.T. Still University's Arizona School of Health Sciences (ATSU-ASHS), delivered the keynote speech at the World Federation of Athletic Training and Therapy (WFATT) World Congress in Madrid.
Falsone, an internationally recognized expert in rehabilitation and performance enhancement, spoke to nearly 300 athletic trainers, athletic therapists, and physical therapists from around the world on the importance of myofascial in sports. This year's crowd was the largest in the event's history.
ATSU was recognized as a sponsor for the event. Eric Sauers, PhD, ATC, FNATA, '97, chair of Interdisciplinary Health Sciences at ATSU-ASHS, was a member of the scientific advisory board that planned the meeting, and attended on behalf of the Commission on Accreditation of Athletic Training Education.
"Falsone was a fantastic keynote for this event," says Dr. Sauers. "She is a highly coveted speaker and represented ATSU and the United States as one of the leading experts on the important role of fascia in sports injuries."