ATSU President and ATSU-MOSDOH Dean receive Samuel U. Rodgers Achievement Award
Posted: November 8, 2018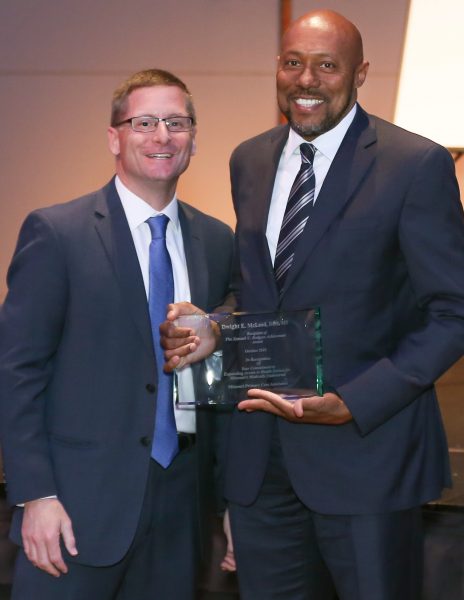 Craig Phelps, DO, '84, president of A.T. Still University (ATSU), and Dwight E. McLeod, DDS, MS, dean and professor, ATSU-Missouri School of Dentistry & Oral Health (ATSU-MOSDOH), were awarded the highest honor from the Missouri Primary Care Association (MPCA) – the Samuel U. Rodgers Achievement Award. The award was presented Wednesday, Oct. 24, 2018, at the MPCA annual celebration, the Community Healthcare Awards of Excellence, in Branson, Missouri.
"ATSU is truly honored to be recognized by MPCA and receive the prestigious Samuel U. Rodgers Achievement Award," said President Phelps. "Service to underserved populations is an important component of ATSU's mission."
Established in 1977 in honor of the late Dr. Samuel U. Rodgers, a healthcare provider, community activist, and national leader in health and civil rights, this award is presented to a distinguished primary care clinician who exemplifies excellence in clinical practice and leadership at the local, state, or national level.
"I thank the MPCA Board of Directors for the recognition," said Dr. McLeod. "ATSU-MOSDOH is committed to serving communities in need. We are proud of our partnership with MPCA as we work tirelessly to address oral healthcare disparities in Missouri."
As ATSU-MOSDOH dean, Dr. McLeod leads the School's faculty and staff on the Kirksville, Missouri, campus and at the St. Louis Dental Center, located at 1500 Park Ave., St. Louis, Missouri. Since the inception of ATSU-MOSDOH's program and the St. Louis Dental Center, a partnership between ATSU-MOSDOH and Affinia Healthcare, Dr. McLeod has worked to expand dentistry in the St. Louis region and throughout Missouri. Alan Freeman, DMgt, FACHE, president and chief executive office, Affinia Healthcare, and his staff have played an integral role in the success of the St. Louis Dental Center and the innovative relationship with ATSU-MOSDOH. Dr. Freeman was the 2017 recipient of the MPCA Samuel U. Rodgers Achievement award.
MPCA is a non-profit membership organization supporting increased access to comprehensive primary healthcare. MPCA represents Missouri's community health centers and promotes the development of programs and systems that assist in the delivery of high quality, accessible, and personalized primary healthcare services to urban and rural populations across Missouri. MPCA advocates for policies and programs that assure access to healthcare for all.
"The Missouri Primary Care Association selected Dr. Phelps and Dr. McLeod to receive our association's most prestigious award, the Dr. Samuel Rodgers Achievement Award," said Joseph Pierle, MPA, chief executive officer, MPCA. "MPCA and its member community health centers appreciate the relationship we have with Drs. Phelps and McLeod, ATSU, and its students. Together, we are positively impacting the lives of thousands of vulnerable individuals in Missouri. We are proud of our collaboration with ATSU. For this, we are grateful."