ATSU partners with NWMSU on early acceptance program
Posted: August 8, 2017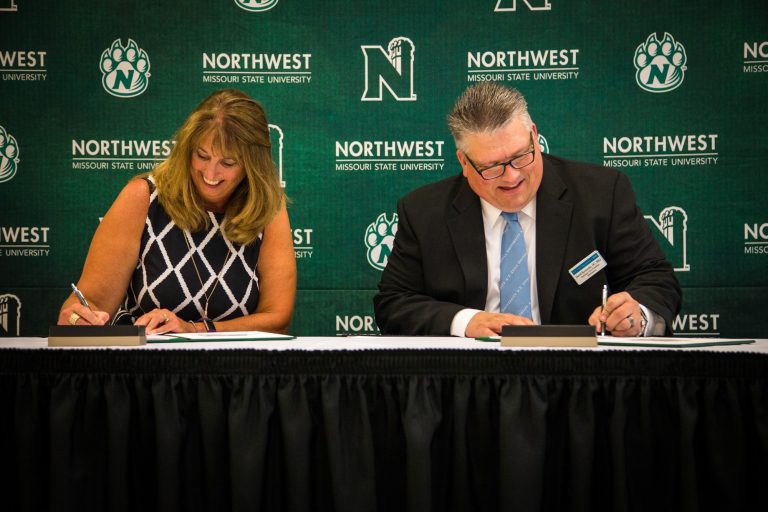 Dr. Jamie Hooyman (left), Northwest Missouri State interim provost, and Dr. David Koenecke (right), ATSU assistant vice president of admissions Photo credit: Northwest Missouri State University
Representatives of A.T. Still University (ATSU) and Northwest Missouri State University (NWMSU) met Wednesday, Aug. 2, to sign a memorandum of understanding on an expedited application procedure to ATSU's Kirksville College of Osteopathic Medicine.
The agreement, signed on NWMSU's Maryville campus, allows a select number of undergraduate students to apply to the medical college through the Still Scholars Early Acceptance Program.
"This is a very special agreement for us," said David Koenecke, DC, MEd, assistant vice president of admissions, ATSU. "We have many, many great applicants from Northwest. To solidify this agreement for us is a great event, and we will keep it going for a long time."
Although any applicant from an accredited four-year college can apply through the Still Scholars Program, those applying from a school with an established articulation agreement with the College – fewer than two dozen schools nationwide – receive priority consideration.
Still Scholars are not required to take the Medical College Admission Test (MCAT) and receive an academic scholarship upon acceptance. The program was created to let applicants pursue strong academic and leadership experience in lieu of the time they would otherwise spend studying for the MCAT.
To be eligible, students must have completed two or more years of college coursework, have a minimum of two years left before graduation, hold a 3.4 or higher cumulative GPA and a 3.4 or higher GPA in science courses, and be recommended by an NWMSU faculty adviser.
Standard course and clinical requirements still apply, and students pursuing this route must submit application essays, course transcripts, and three letters of recommendation by the June 1 deadline. Successful applicants are notified of their acceptance the following fall.
NWMSU will select two students each year to interview with ATSU-KCOM as potential Still Scholars.
For more information, visit www.atsu.edu/kcom/admissions/preparing_DO_admission/still_scholars.
Photo caption: Dr. Jamie Hooyman (left), Northwest Missouri State interim provost, and Dr. David Koenecke (right), ATSU assistant vice president of admissions
Photo credit: Northwest Missouri State University