ATSU-MOSDOH student says school providing path toward career goals in dentistry
Posted: April 25, 2023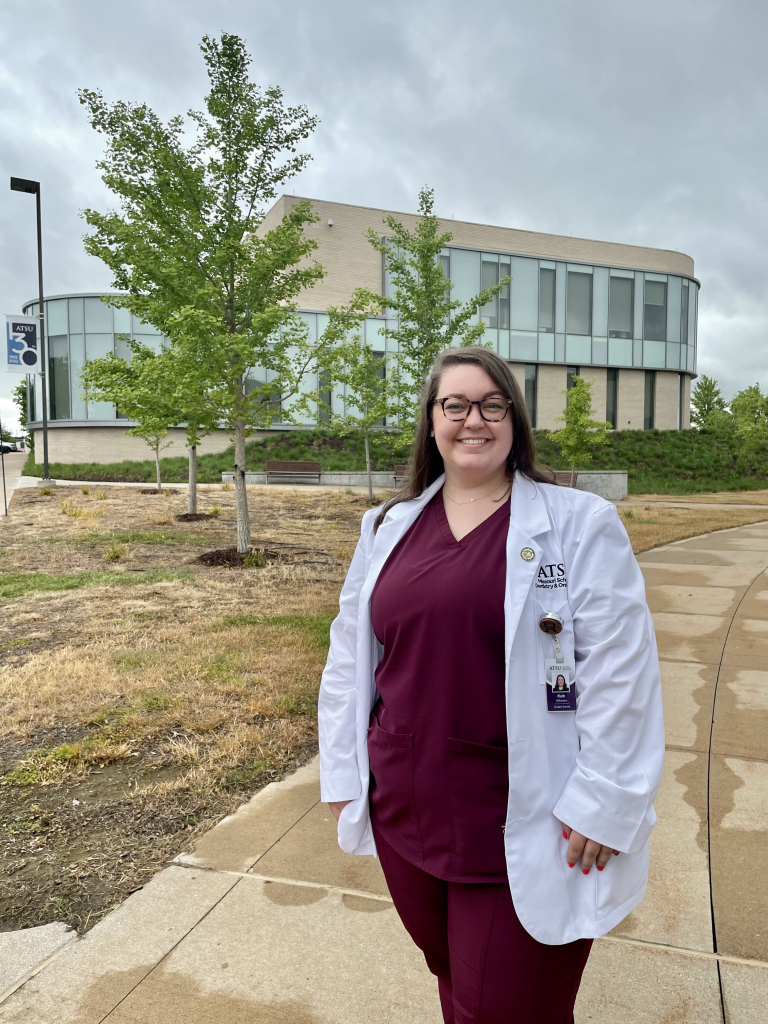 Ruth Wilkinson, D2, stands on ATSU's Kirksville, Missouri, campus.
When Ruth Wilkinson, D2, finishes her dental education with the class of 2025, her goal is to serve in a federally qualified health center.
In A.T. Still University's Missouri School of Dentistry & Oral Health (ATSU-MOSDOH), Wilkinson has found the perfect place to help her achieve that goal.
"ATSU stresses the importance of serving public health in its mission statement. ATSU-MOSDOH has provided me with multiple opportunities to go into the community and help serve vulnerable populations, which has only solidified that my decision to go into public health is the right one," she said.
Wilkinson is from Overland Park, Kansas, and has an undergraduate degree in biology with minors in chemistry, physical science, and public health.
ATSU-MOSDOH made her feel welcome and like a member of the community when she interviewed and toured, and those feelings have only grown stronger during her time on the Kirksville, Missouri, campus.
"I enjoy feeling a part of the ATSU family," she said. "My class is super close and I know if I am needing assistance with anything, or just someone to hang out with, I have people to support me."
A unique factor in ATSU-MOSDOH's favor, Wilkinson said, is the four-year program being split between two locations. Students spend their first two years in Kirksville, working in the simulation lab, and then relocate to St. Louis and the St. Louis Dental Center, a dental clinic operated in partnership between ATSU-MOSDOH and Affinia Healthcare. 
"The split campus was something different than other schools and has allowed me to experience dental school in both a small town and a large city. I have been provided with numerous experiences to work with patients, which helps me learn how to better operate with my patients when I get to St. Louis," she said.
Wilkinson serves as a member of Delta Sigma Delta and a student ambassador, organizations which allow her to grow as a team member and gain leadership experiences.
"Part of dentistry is being a team player, and I have learned how to become a more valuable team player," she said. "I was a student ambassador in undergrad and I loved being able to share my experiences with prospective students. I enjoy getting to meet new people and serving as a resource for them. I get emails from students who have toured, announcing their acceptance to ATSU-MOSDOH, and it makes me feel proud to have been part of their journey to dental school."