ATSU-MOSDOH celebrates beginning for 65 dental students in class of 2027
Posted: August 1, 2023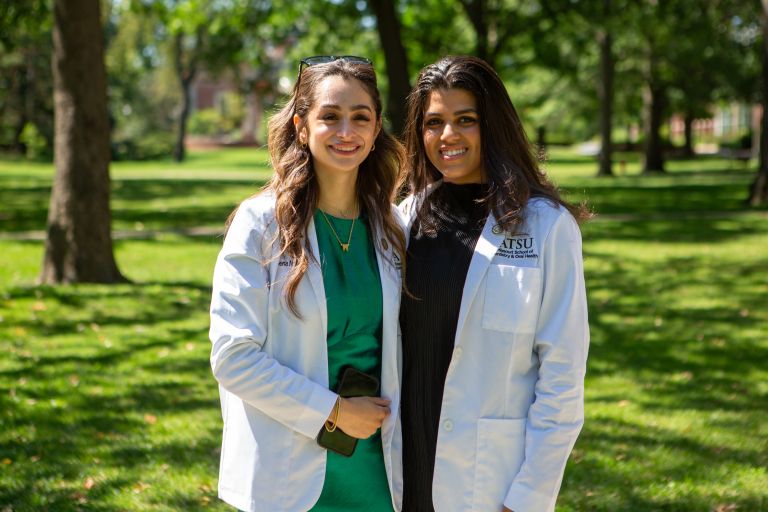 A.T. Still University's Missouri School of Dentistry & Oral Health (ATSU-MOSDOH) welcomed the class of 2027 with a White Coat Ceremony on Friday, July 14, 2023, in Kirksville, Missouri. 
The new class has 65 students who represent 22 states, with 15 students from Missouri. Two of the students are Truman State University alumni, and one student is a Kirksville native.
ATSU-MOSDOH also welcomed 10 students participating in the Advanced Standing International Dentist Program, which is designed to enable qualified dentists educated outside the U.S. to earn a doctor of dental medicine (DMD) degree. After successful completion of a special semester-long didactic and clinical simulation course, the international dentist students join the School's traditional cohort of students in the D3 and D4 years, culminating in the awarding of the DMD degree.
Lori Haxton, MA, vice president, student affairs, presented the students. ATSU-MOSDOH Dean and Professor Dwight E. McLeod, DDS, MS; Bertha Thomas, ATSU Board of Trustees; and Grace Mosley, D2, class of 2026 president, provided remarks.
Mosley also participated in the key transfer ceremony, presenting the symbolic key for the cabin of A.T. Still, DO, to Nicholas Kennedy, D1, of the class of 2027. The key is a symbol of the University's heritage, and also of the commitment current students have to supporting members of the incoming class.
ATSU President Craig M. Phelps, DO, '84, provided closing remarks. 
Watch the full ceremony here, and check out more photos below!