ATSU leaders visit Chaminade University of Honolulu
Posted: March 19, 2018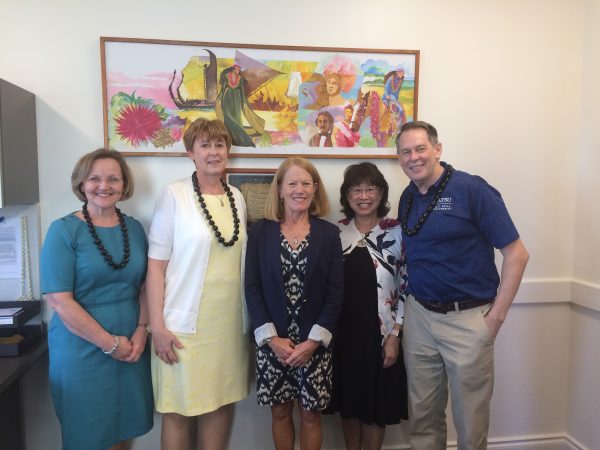 ATSU-KCOM Dean Margaret Wilson, DO, '82, ATSU Vice President for Student Affairs Lori Haxton, MA, and Museum of Osteopathic Medicine Director Jason Haxton, MA, DO (h.c.), traveled to Hawaii to meet with Chaminade University of Honolulu students, as well as President Lynn M. Babington, PhD, MSN, and Patricia M. Lee-Robinson, MEd, MS, associate provost and director, Office of Health Professions Advising and Undergraduate Research.
Chaminade University of Honolulu leadership invited ATSU representatives to their Honolulu campus in early March to present on a number of admissions-related topics, including admission counseling advisement to address grant objectives that target, encourage, and place students in the health professions. In addition, the history of osteopathy and Hawaii was also a featured presentation.
"ATSU and Chaminade University have enjoyed a rich, important relationship that connects our institutions to expand opportunities for students from diverse and underserved backgrounds to explore opportunities in the healthcare professions," says Dean Wilson. "Having similar missions, our two universities have worked together with great success to matriculate students in all of our different programs."
ATSU and Chaminade University of Honolulu have worked together for the past nine years to develop pipeline programs for health professions students through memorandums of understanding and Still Scholars programs. ATSU currently enrolls former Chaminade University students in KCOM, MOSDOH, ASHS, and SOMA.
In October 2014, ATSU President Craig Phelps, DO, '84, FAOASM, met with former Chaminade University President Brother Bernard Ploeger, SM, PhD, and Associate Provost Lee-Robinson to sign three separate articulation agreements between the two Universities to further develop their relationship. ATSU and Chaminade University of Honolulu are both committed to educating future healthcare professionals. Chaminade University is rated nationally as one of the most diverse universities in both ethnicity and overall diversity.