ATSU-KCOM welcomes 172 new students with White Coat Ceremony
Posted: July 22, 2022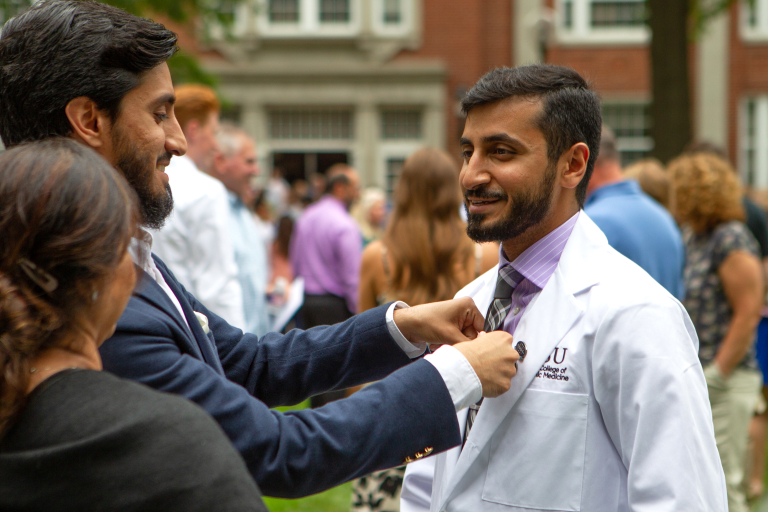 A.T. Still University's Kirksville College of Osteopathic Medicine (ATSU-KCOM) celebrated the class of 2026 with a White Coat Ceremony on Saturday, July 16, 2022, at Truman State University's Baldwin Hall in Kirksville, Missouri.
The first-year doctor of osteopathic medicine class counts 172 members representing 27 states, with 47 student doctors from Missouri.
"It is a day to celebrate the achievements of the entering class of 2026, achievements which brought them here today, and it's a day to celebrate 130 years of our institution and the osteopathic profession," said Margaret Wilson, DO, '82, ATSU-KCOM dean and professor.
"We are here today because a man named Andrew Taylor Still had a vision to change the face of medicine. He was a man who suffered many personal losses, which led him to develop a new philosophy of care, focusing on restoring health and wellness."
Norman Gevitz, PhD, ATSU senior vice president-academic affairs, encouraged students to embrace the distinctiveness of osteopathic healthcare and work to become distinctive physicians themselves.
"This school will help you become a highly qualified graduate, but it also has the capacity and resources to do more, to make you a highly distinctive one, to give you additional training in osteopathic, physical diagnostic, and therapeutic tools, and guided by a philosophy that if you can incorporate in your practice will give you greater means to provide physical help and comfort to your patients. A distinctive approach to healing, which will mark you as a special and valued practitioner in the communities in which you serve," Dr. Gevitz said. "Take advantage of this opportunity to be distinctive. To be distinctive is to be visible, and in being visible, you can make a difference."
Ryan Lange, OMS II, president, class of 2025, ATSU-KCOM vice president, Student Government Association transferred the symbolic key to class of 2026 member Alison Riggs, OMS I. The key represents that to the cabin of A.T. Still, DO, and the extension of the University's heritage, and also a commitment by current students to provide help and assistance to incoming students.
Lange told students to remain confident in themselves and lean on those ready to support them in the future.
"We took so many different roads to get here, but now we are on the same path. My advice is to be attentive to all of those unique paths, but yet recognize the similarities we all share," Lange said. "Medical school will be some of the best years of your life, but it is demanding, it is a struggle. Luckily, these people behind me (ATSU-KCOM faculty) and all of those sitting around you (family and friends) here today are here to help you get to the other side. A.T. Still University is the best place with the best people to help you through these next four years. When times get tough, I want you to remember not only that you can do this, but you get to do this."
Watch the ceremony here: