ATSU-KCOM, the founding school of osteopathic medicine, welcomes 179 new students
Posted: August 5, 2023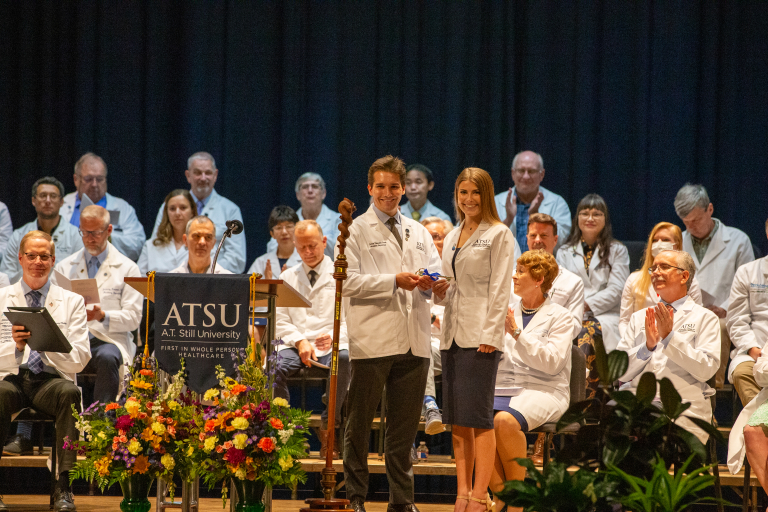 A.T. Still University's Kirksville College of Osteopathic Medicine (ATSU-KCOM) welcomed the class of 2027 with a White Coat Ceremony on Saturday, July 15, 2023, in Kirksville, Missouri. 
The new class has 172 students who represent 27 states, with 51 students from Missouri. Two class members are from Kirksville, and 13 are graduates of Truman State University.
Additionally, seven students are beginning ATSU-KCOM's Master of Science in Biomedical Sciences program. The class of 2025 includes two Truman State University graduates, and one student from Lancaster, Missouri.
Lori Haxton, MA, vice president, student affairs, presented the students. ATSU-KCOM Dean and Professor Margaret Wilson, DO, '82, provided the introduction. Welcome remarks were delivered by Kimberly Perry, DO, MBA, MHCM, FACEP, FACOEP, '91, ATSU Board of Trustees, and ATSU-KCOM Class of 2026 President Vinny Cook, OMS II.
Cook also participated in the key transfer ceremony, presenting the symbolic key for the cabin of A.T. Still, DO, to Jamie Balonier, OMS I, of the class of 2027. The key is a symbol of the University's heritage, and also of the commitment current students have to supporting members of the incoming class.
ATSU President Craig M. Phelps, DO, '84, provided closing remarks. 
Watch the full ceremony here, and check out more photos below!