ATSU-KCOM students win national AMSA Sim Challenge
Posted: April 10, 2018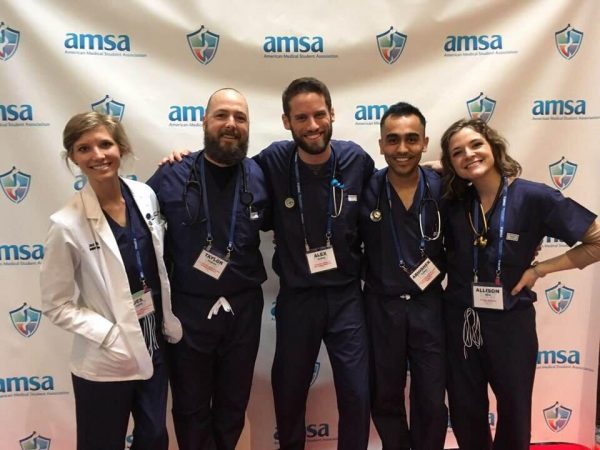 Last month, a team of students from A.T. Still University's Kirksville College of Osteopathic Medicine (ATSU-KCOM), beat teams from 15 other medical schools to win the American Medical Student Association's (AMSA) Sim Challenge. The competition was held at the AMSA's Annual Convention and Exposition. Teams were tasked with solving a series of simulated clinical scenarios requiring medical knowledge, clinical skills, teamwork, and communication. A panel of judges determined the winner of each round.
Jessica Clark, OMS II, learned of the competition on social media and reached out to her classmates to see if anyone was interested in forming a team. Second-year students Allison Bird, Alex Sirney, Taylor Travers, and Abhishek Vaidya answered the call. The group trained at ATSU's Drabing Human Patient Simulation Center under the guidance of faculty adviser Ben Schrant, DO, '08.
"In addition to acquiring a certain skill set that will be useful as I continue my medical education, I also gained valuable perspective on the importance of working as a team and trusting one another to provide compassionate, comprehensive care to our simulation patient," says Clark. "As our team grew together, we remained open about our strengths and areas for improvement, continually checking in with one another so that our patient remained at the forefront."
Congratulations to Team KCOM!