ATSU-KCOM student raises over $4,000 for melanoma research with 'Steps Against Melanoma' walk
Posted: December 13, 2022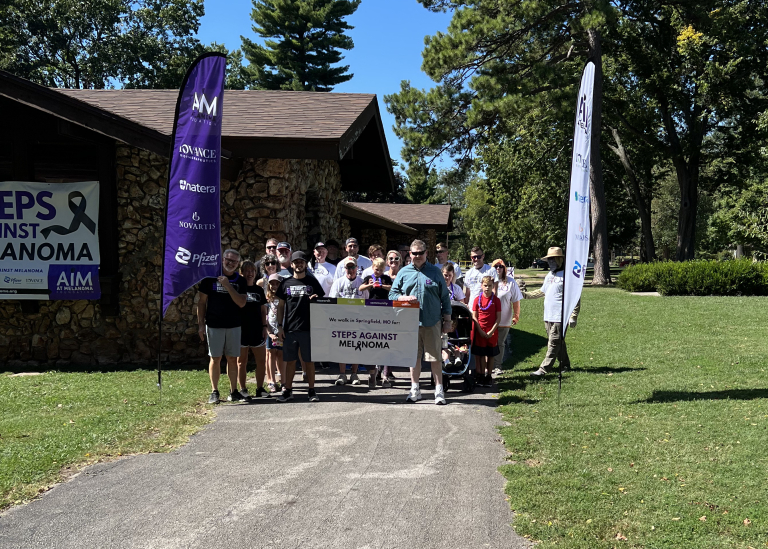 When A.T. Still University-Kirksville College of Osteopathic Medicine (ATSU-KCOM) student Grant Thimesch, OMS IV, first heard about the AIM at Melanoma Foundation's "Steps Against Melanoma" walk, he thought it would be a great opportunity to do a bit of fun volunteer work in between his studies. 
Instead, he found himself organizing Springfield, Missouri's first "Steps Against Melanoma" walk and raising over $4,000 for melanoma research. The walk, which was held on Sept. 25, 2022, aligned with Thimesch's passion for dermatology and love for the Springfield community.
"I'm passionate about skin cancer in general and raising awareness. I wanted an event that wasn't just about promoting sunscreen or face washes and things like that. I wanted something that was more concrete, something that supported patients going through their battles of melanoma or who have defeated melanoma, or even those who had lost their lives," Thimesch said.
"I wanted to create an event that supported everyone from all walks of life. In doing that, I felt like I could make a real difference. I wanted a sustainable event," he added. 
The AIM at Melanoma Foundation is an international nonprofit that strives to find a cure for melanoma through funding research, raising awareness of preventive measures, and providing support for patients, caregivers, and survivors.
"Honestly, it kind of fell on my lap," Thimesch said, explaining how he got involved with the walk.
"I'm pursuing a career in dermatology, and I was just looking for fun volunteer opportunities, actually, and stumbled across this walk that was attempted to be held before COVID happened," he added.
Originally, the walk was being organized by J.T. Woodruff, a stage-four melanoma "warrior," as Thimesch described him. Thimesch explained that Woodruff's health began to decline, and AIM reached out to see if Thimesch would be interested in helping him finish organizing the walk.
"He had the connections and things like that, he just doesn't quite have the energy or the spunk to pick it off the ground and actually get it going," Thimesch said. "I went in thinking I just wanted to volunteer, versus now I'm one of the project leaders, and so it was a fun journey."
After finding sponsors, booking a DJ, and securing donations, the walk kicked off without a hitch, and families in the community walked together to help find a cure and end melanoma.
Unfortunately, less than a month after the walk, Woodruff lost his battle with melanoma.
"He actually pulled me aside at the end, and he said, 'You know, I'm really glad you stepped in, because this event wasn't going to happen without your help. I couldn't take on the burden all by myself,'" Thimesch said.
"That was kind of one of the final big events in his life, and I know he really appreciated it. It really brought him joy, the fact that he could raise awareness for the condition that ultimately took his life."
Although Thimesch will be away for residency for next year's walk, he hopes to see the walk become an annual tradition in Springfield.
"I love the Springfield community, and I enjoy bringing the advocacy and awareness to the community I've called home for quite a while," he said.