ATSU-KCOM Student Ambassador Spotlight: Ellen Cravens
Posted: February 22, 2022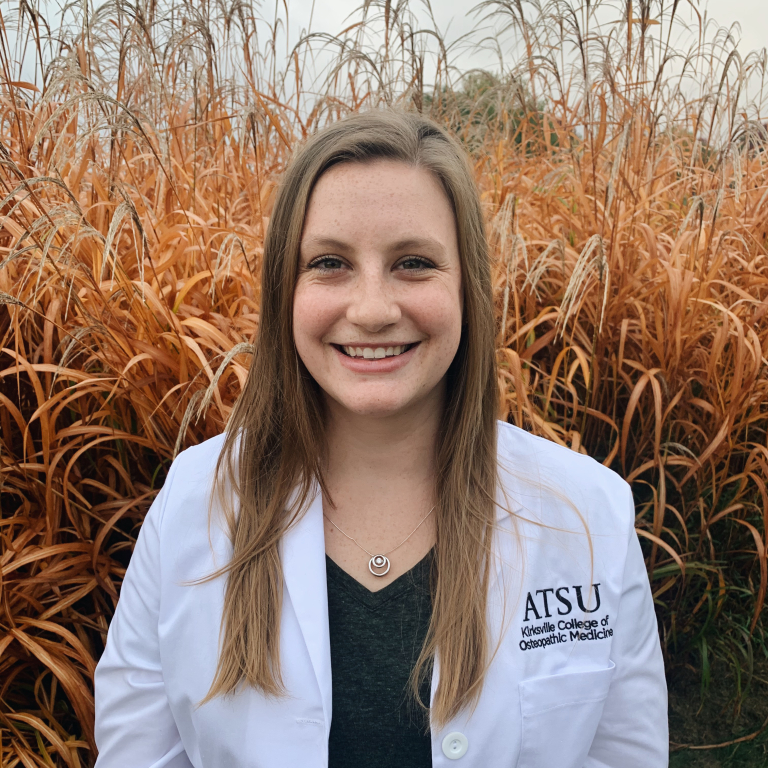 Ellen Cravens, OMS II
Each month, A.T. Still University's (ATSU) Admissions Office in Kirksville, Missouri, will select student ambassadors to recognize and showcase. Student ambassadors are second-year students who speak and meet with prospective ATSU-Kirksville College of Osteopathic Medicine (ATSU-KCOM) and ATSU-Missouri School of Dentistry & Oral Health (ATSU-MOSDOH) students. 
ATSU-KCOM Student Ambassador Spotlight: Ellen Cravens
Ellen Cravens, OMS II, is originally from Wausau, Wisconsin, and earned a bachelor's of science degree in biochemistry from University of Minnesota.
Cravens is on the advisory board for the Intellectual and Developmental Disabilities Elective and is president of Point Care Ultrasound Society (POCUS). She enjoys hiking in her free time with her husband and dog.
Cravens became a student ambassador to show those interested in ATSU-KCOM what the College has to offer.
"My favorite part of being an ambassador is I get to express to applicants how much ATSU feels like a family, and help their interview day feel as relaxed as possible," Cravens said.
Following graduation, Cravens hopes to serve residents of a rural community.
"I hope to one day practice medicine in a rural setting, and I believe ATSU is providing a strong foundation in holistic, whole person healthcare for me to be the best physician I can be," Cravens said.
Congratulations, Ellen Cravens, for being our ATSU-KCOM Student Ambassador spotlight!