ATSU-KCOM Community Mentors Program receives award from Missouri agency
Posted: December 9, 2021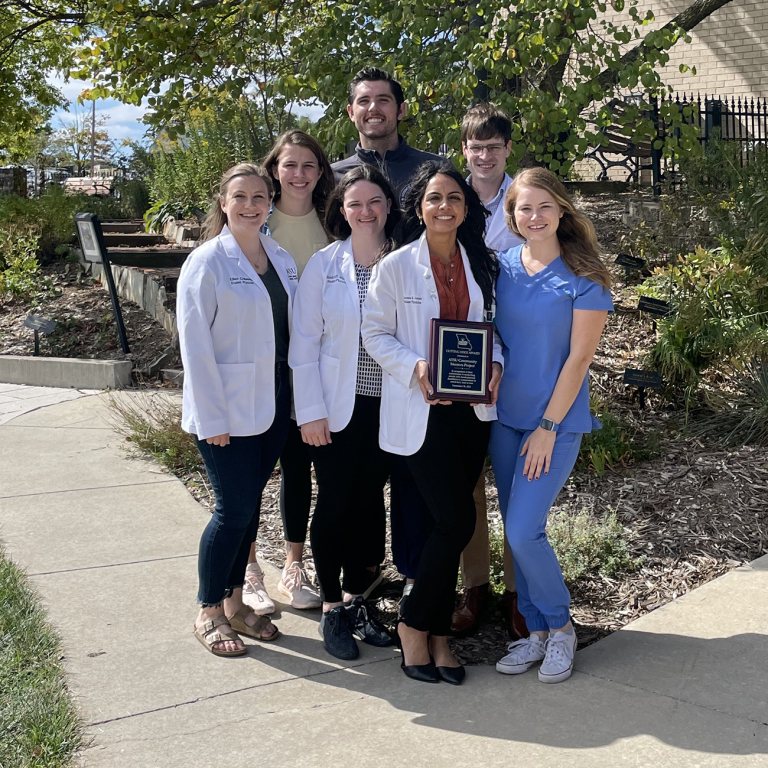 ATSU-KCOM Intellectual and Developmental Disabilities elective Advisory Board members are pictured along with Amreeta Jammu, OMS III, who played an integral role in establishing the elective. Front row: Ellen Cravens, OMS II; Heidi Michael, fellow; Amreeta Jammu, OMS III; Lisa Millar, fellow. Second row: Shelby Terrell, OMS II; Jacob Speechley, fellow; David Bailey, MS, OMS II.
A.T. Still University-Kirksville College of Osteopathic Medicine's (ATSU-KCOM) Community Mentors Program, part of the School's Intellectual and Developmental Disabilities elective, received the Missouri Association of County Developmental Disabilities Services (MACDDS) Cutting Edge Award.
The program was nominated by the Adair County SB40 Developmental Disability Board. According to the board, "nominees for the MACDDS Cutting Edge Award shall provide services and/or programs that are unique, inclusive, person centered, respectful, and dignified. The program must lead to more interdependence or independence and/or promote a learning culture in which creativity, innovation, and risk taking are supported and where team members feel empowered to provide excellent supports."
The program was initially made possible through a $25,000 grant award from Adair County SB40. The organization awarded another grant in August 2021 to continue the program for a second year.