ATSU-KCOM Student Ambassador Spotlight: Bansari Amin
Posted: February 8, 2022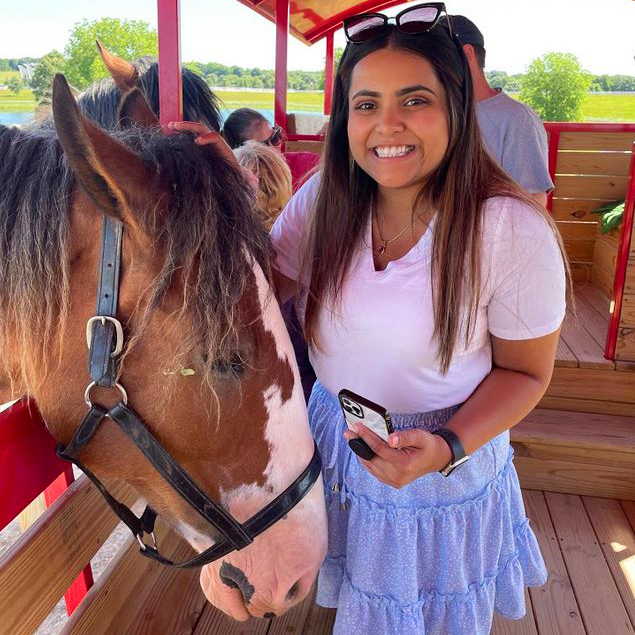 Bansari Amin, OMS II
Each month, A.T. Still University's (ATSU) Admissions Office in Kirksville, Missouri, will select student ambassadors to recognize and showcase. Student ambassadors are second-year students who speak and meet with prospective ATSU-Kirksville College of Osteopathic Medicine (ATSU-KCOM) and ATSU-Missouri School of Dentistry & Oral Health (ATSU-MOSDOH) students. 
ATSU-KCOM Student Ambassador Spotlight: Bansari Amin
Bansari Amin, OMS II, is originally from Naperville, Illinois, and received a bachelor's of science in health sciences from Truman State University in Kirksville, Missouri.
Amin is president of the Sexuality in Medicine Club, secretary of the OB/GYN Club, chair of the Health and Education Committee, and a mental health ambassador.
Amin enjoys hiking at Thousand Hills State Park, cooking, and reading.
Amin recalled her own experience on her interview day and the student ambassadors who helped as why she wanted to become an ambassador herself.
"It is a great feeling to be a part of an interview day for all of our applicants," Amin said. "My favorite part of being a student ambassador is doing the osteopathic manipulative treatment (OMT) demos, since you can see the look of amazement on the applicant's face when they hear their first HVLA (high-velocity low-amplitude) crack."
Amin appreciates ATSU's mission and looks forward to carrying it forward in her practice of medicine.
"My goal as a future physician is to ensure I am taking care of my patients as a whole and ATSU gives a great foundation of holistic medicine," Amin said.
Congratulations, Bansari Amin, for being our ATSU-KCOM Student Ambassador spotlight!