ATSU-KCOM receives major alumni gifts
Posted: March 26, 2015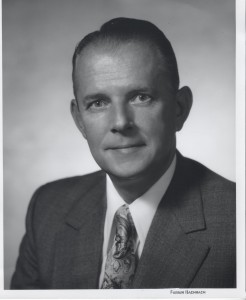 Edward P. Crowell, DO, '52
A 1952 graduate of ATSU's Kirksville College of Osteopathic Medicine (ATSU-KCOM), Edward P. Crowell, DO, practiced internal medicine in Waterville, Maine, for more than seven years before joining the American Osteopathic Association (AOA) in 1964 as assistant executive director. In 1968, he became the eighth DO to serve as the AOA's executive officer. He served in that capacity for 13 years.
"Dr. Crowell's intelligence, calmness, kindness, openness, confidence, and dignity served the AOA well during organizationally challenging times. He was a steady hand at the helm," noted his successor, John Perrin, JD.
Dr. Cowell passed away in November 1994 and his wife, Elaine, more recently in January 2014. They had no children so the bulk of their estate, a gift of $1,142,000, was bequeathed to ATSU-KCOM for its unrestricted use.
Their nephew, Harrison Crowell, trustee of their residuary trust, shared in a letter this insight surrounding the gift, "This gift to ATSU-KCOM is the result of foresight and stewardship. In 1990, my uncle and aunt had the foresight to set up a trust for their estate. Through investments, they were able to earn a substantial amount of money. After my uncle passed away, my aunt became the trustee for the trust. Her stewardship of the trust helped it to maintain much of its value even through the recent recession. I believe I speak for the whole Crowell family when I say we hope the leadership of ATSU-KCOM will use foresight and good stewardship as they put this gift to work for general purposes at the College."
With much gratitude for this generosity, that obligation is being fulfilled as this exceptional gift is now used across all departments of ATSU-KCOM to enhance student learning experiences, purchase teaching equipment, and improve facilities.
Julius Magill and David Magill, DO, '94
A Chicago area businessman, Julius Magill, and his son, David Magill, DO, '94, are being remembered for their role as members of ATSU-KCOM's 100 Million Dollar "Planning Tomorrows" Club. Initiated in the early 90s, this special group of donors participated in the College's capital campaign honoring the 100th anniversary of the founding school of osteopathic medicine.
Julius said his decision to purchase a survivorship life insurance policy that names the College as the owner and beneficiary of the policy was based on seeing his son's dream to become a doctor coming true.
"David had wanted to be a doctor from the time he was a little boy," Julius once told staff at ATSU-KCOM. "This is one way we can help other students fulfill their dreams to become doctors. I am impressed with the quality of the education my son is receiving at ATSU-KCOM, and I want to see it maintained in the future. I know it is expensive to operate a medical school. You can't maintain the highest standards, and get the best professors, on tuition alone."
Julius spent much of his life in real estate management in Wilmette, Ill., previously operating a pharmacy in Chicago. A graduate from the University of Illinois College of Pharmacy in 1957, he always had strong feelings about the osteopathic profession's holistic approach to medicine.
David graduated from North Par College in Chicago with a degree in biology. He served four years in the U.S. Army and was commissioned a second lieutenant and worked in the area of preventative medicine. After graduation from ATSU-KCOM in 1994, he practiced pediatric rehabilitation until his passing in 2011. Following Julius' passing in December 2014, ATSU-KCOM received $1,000,000 of insurance proceeds to create a permanent general operations endowment in their name for the College.