ATSU-KCOM alumnus named president of AOCR
Posted: May 29, 2014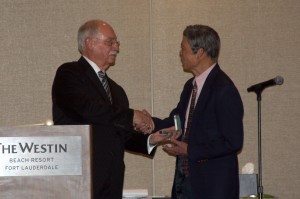 Wade H. M. Wong, DO, FAOCR, '72, was inaugurated as the 64th president of the American Osteopathic College of Radiology (AOCR) on April 30, 2014, at their annual Awards Ceremony held in San Diego, Calif.
Dr. Wong has been very active in the AOCR as a member and officer of the board of directors as well as serving as program chair of continuing medical education activities. Dr. Wong has served on the board of directors since 2000. He was awarded the title of Fellow of the AOCR in 2006 and the Dr. Floyd J. Trenery Memorial Medal in 2013.
Dr. Wong completed his internship at the Naval Regional Medical Center in San Diego and a residency in aerospace medicine at the Naval Aerospace Medical Institute, in Pensacola, Fla. He served as flight surgeon for VF1 and VF2, the Navy's first two F14 Squadrons. This was followed by a residency in diagnostic radiology at Naval Regional Medical Center in Oakland, Calif./UC San Francisco. He completed a fellowship in neuroradiology, interventional neuroradiology, and pain medicine at the University of California – San Diego. Dr. Wong was certified in diagnostic radiology by the American Board of Radiology in 1979 and in 1995, received a certificate of added qualifications in neuroradiology. He is the first radiologist to be ABMS board certified in pain medicine through the American Board of Psychiatry and Neurology.