ATSU employees recognized for Advisor of the Year
Posted: August 3, 2017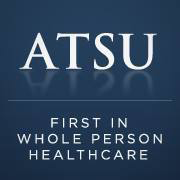 Two A.T. Still University (ATSU) employees were recognized as Advisor of the Year. Lori Bordenave, PT, DPT,  PhD, '07 received the award for ATSU's Mesa, Arizona campus. Lisa Archer, RN, director, simulation & performance assessment, received the award for ATSU's Kirksville, Missouri campus.
Advisor of the Year is awarded to full-time employees who have clearly distinguished themselves by providing exemplary guidance, support, and dedication to the advisement of a registered student organization at ATSU. Faculty, staff, and students nominate those who they believe best represent these qualities. Some of the excerpts from those who nominated them can be seen below.
On Dr. Bordenave…
"She is known as the feelings lady, and with that, she has always been concerned with the development of student learning. We expressed to her our concern of emerging leaders for next year, and she took it upon herself to individually contact students to provide encouragement and motivation."
"Dr. Bordenave has served as an exceptional role model for SPTA. She is a strong female that knows how to get the job done! She has coached us through miscellaneous items this year all while providing takeaway advice and tools as we enter the profession of physical therapy."
On Lisa Archer…
"She also attends our events when she is able, follows up with us when she receives any contact from other people about the organization, and generally stays involved in any way possible"
"We couldn't have asked for a better person to help us navigate the intricacies of planning the events that our organization puts on. She helped alleviate a lot of the stress that being an involved medical student entails, and we're thankful for her."
"I am grateful for these honorees and all students and employees who help enhance life outside the classroom through their good work in student organizations," said Mykel Estes, MEd, director, student life.