ATSU-CHC welcomes the CCPA class of 2024 with White Coat Ceremony
Posted: August 18, 2023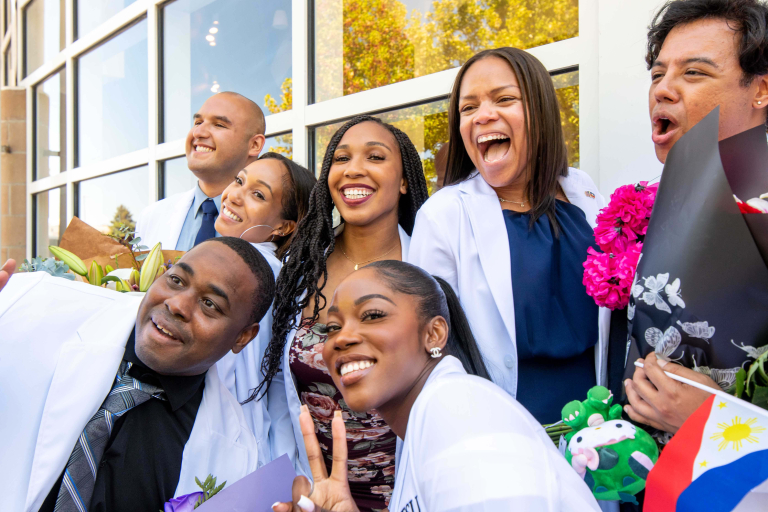 A.T. Still University's College for Healthy Communities (ATSU-CHC) hosted a White Coat Ceremony for its Central Coast Physician Assistant (CCPA) program class of 2024 on Friday, Aug. 18, 2023 at the Clark Center for the Performing Arts in Arroyo Grande, California.
The White Coat Ceremony marks the students' entrance into the PA profession, and symbolizes their commitment to the obligations of their new profession. The ceremony also addresses professional ethics and responsibilities and recognizes students for reaching such a milestone.
Eric Sauers, PhD, '97, professor and dean of ATSU-CHC, and Norman Gevitz, PhD, senior vice president of academic affairs, delivered the ceremony's opening remarks. Daniel McDermott, DMSc, PA-C, '21, associate professor, chair, and director, welcomed students and introduced the stage party, and Cristina Tipei, MSPAS, PA-C, '15, assistant professor, led the students in the Physician Assistant Oath.
O.T. Wendel, PhD, senior vice president for university planning and strategic initiatives, presented the keynote speaker, Sue Andersen, president and CEO of Dignity Health Marian Regional Medical Center, who delivered the ceremony's keynote address. 
"I'm not only excited about the future that lies ahead for you, I'm grateful you have chosen to be PAs. What a difference your profession makes in our healthcare world, increasing access to the underserved, contributing to decreasing health disparities, contributing to healthcare scholarship, and providing collaborative care," said Dr. Sauers.
Watch the full ceremony here: