ATSU-CHC student helping to provide substance abuse counseling and more on Central Coast
Posted: March 7, 2023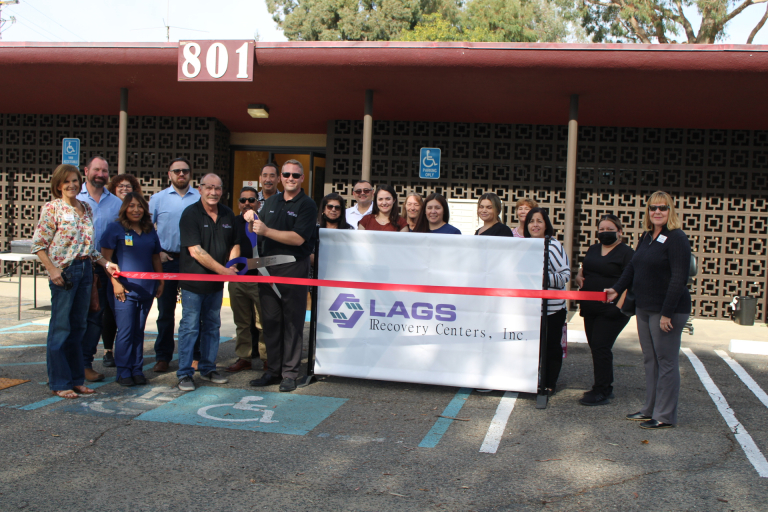 For A.T. Still University-College for Healthy Communities (ATSU-CHC) student Francis "Frank" Lagattuta II, PA, '24, the last few years have been what you might consider serendipitous.
For years, he worked as a substance abuse counselor, making his way up as the director of behavioral health at a local medical center in Santa Maria, California.
But eventually, Lagattuta said he realized he needed to do more.
"I can only do so much, and folks need access to medication assisted treatment, they need access to mental health treatment, and not just therapy. These people need psychiatric care, they need medication management. So I said I need to broaden my scope because, quite frankly, there is a huge shortage of providers. That's really what drew me to becoming a PA," he said.
As a married father of five, Lagattuta said this dream wasn't fully realized until ATSU's Central Coast Physician Assistant (CCPA) program came to Santa Maria.
He explained, "I mean, what am I going to do? Relocate my entire family to go pursue a dream when I'm 35 years old? That's out of the window. My wife and I, I remember saying, 'Somebody's looking out for us. Somebody's saying there's a need here, and we're being given a crazy opportunity.'"
Lagattuta and his wife, Norma, are now both enrolled in the CCPA program, with Norma expected to graduate this year and Frank in 2024.
"We've graduated twice together now, and we are very deeply rooted in Santa Maria. My wife has been out here for her entire life. I've been out here for about 15 years now. We graduated from our local community college, Allan Hancock College, together, and then we graduated from Arizona State University together," he said.
ATSU's arrival in Santa Maria wasn't just good timing for Lagattuta's education, but also for his personal mission.
Throughout his career, Lagattuta has had a passion for developing more integrated care for those suffering from substance use disorders and mental health issues. In 2016, Lagattuta founded LAGS Recovery Center, a behavioral health and addiction services center where he continues to serve as CEO. The center officially opened its doors on June 1, 2021.
At the recovery center, individuals have access to a wide range of services, from intensive outpatient treatment to primary services such as substance abuse counseling, parenting workshops, and individual therapy.
The center employs multiple psychiatrists and PAs who specialize in psychiatry and mental health, as well as a licensed marriage and family therapist (LMFT) and several substance use counselors.
Individuals and families who are homeless or at risk of homelessness also have access to services at the Road to Recovery Navigation Center, which is located roughly 10 minutes away from LAGS Recovery Center.
The navigation center opened in November 2021, and provides access to meals and mobile showers throughout the week, as well as resources to help secure housing or jobs and find financial support.
"A lot of folks suffering from homelessness are also suffering from addiction, mental illness, and more often than not, they're co-occurring. And even more often than not, these folks have not seen doctors in years," he said.
In addition to both of these centers, the 40-bed Road to Recovery Shelter, also founded by Lagattuta, is expected to open within the next few weeks.
"In essence, I'm combining emergency shelter services with residential treatment services in order to improve long-term housing retention rates," he said.
Lagattuta explained most homeless shelters in the system of care in California only allow people to stay in shelters overnight, and after six or seven in the morning, they must exit the facility. However, this won't be the case at the Road to Recovery Shelter.
"Of course, folks are free to leave, but we will be providing them with the option to be able to stay there, have breakfast, and then go meet with perhaps a psychiatric physician assistant. They can go meet with the family med doctor…and then they can meet with a therapist, and they can go and participate in, whether peer-led or by a substance abuse counselor, psychosocial and psychoeducational group treatment."
The intent of providing all of these services in close proximity to each other, Lagattuta said, is to stabilize people as quickly as possible.
"I'd like to say we do things a little bit differently here. We really focus on each person, and that was one of the things I loved about ATSU, too. Both of our missions are so congruent there, they both aligned so well. This program coming to Santa Maria, the school aligning with not only my work mission, but my personal philosophy and my personal mission, it's all been too good to be true," he said.