ATSU-CGHS Kinesiology alumna brings her passion for movement to Special Olympics Kansas
Posted: October 28, 2022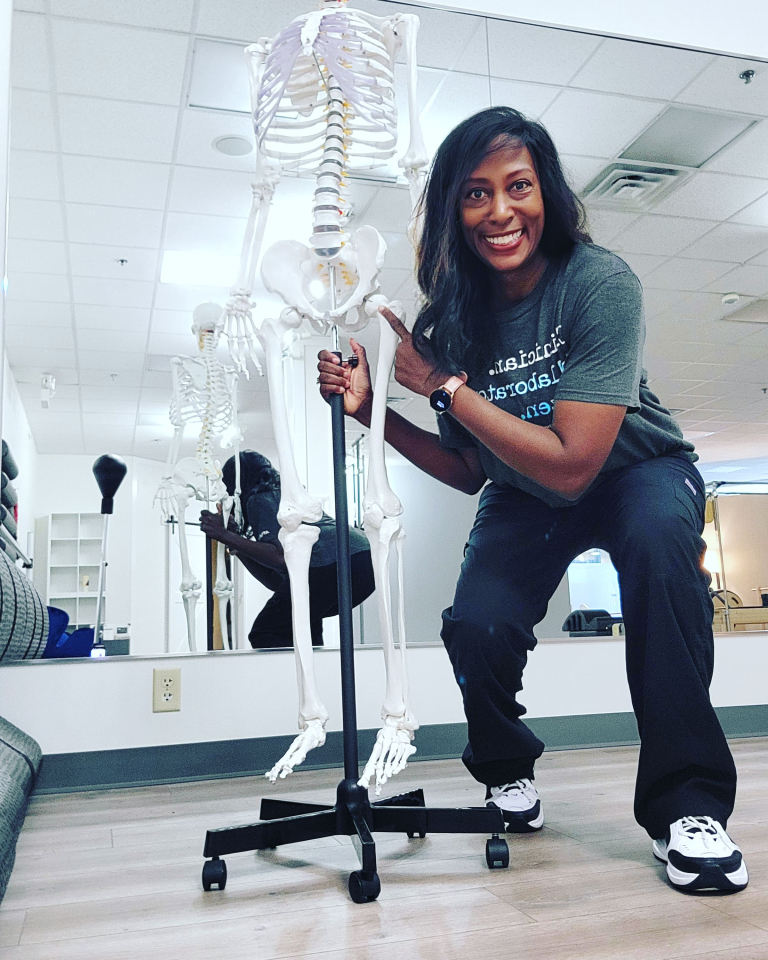 ATSU-CGHS alumna Lorna Jarrett, PTA, MS '19, AIB/VR, NCPT.
For A.T. Still University-College of Graduate Health Studies' (ATSU-CGHS) alumna Lorna Jarrett, PTA, MS '19, AIB/VR, NCPT, movement is everything.
"I am an artist, by way of my heart, and my art has always been movement-based," she said.
That's why she decided to further her education through ATSU-CGHS' Master of Science in Kinesiology program Adaptive Sports track.
"Even if all you can move is your little finger, I want to help you to move it to the greatest of your capacity," Jarrett said.
Jarrett began her professional career in the technology industry but soon realized she wanted to pursue a career in something she was more passionate about – health and movement.
"I knew I didn't want to stay there. I remember sitting there with these manuals in this cubicle, and within a year I left that position and started pursuing an area of movement. At the same time, I was always this unofficial health guru, taking everyone to the gym, so I knew that was a passion of mine and ​​I decided to continue down that path," she said.
After becoming a licensed physical therapist assistant (PTA) and certified as a National Strength and Conditioning Association (NSCA) personal trainer, Jarrett decided to begin working towards her next goal – getting her master's degree in kinesiology.
ATSU-CGHS' Kinesiology program prepares students to become clinical leaders in kinesiology, exercise science, health and fitness. Along with the Adaptive Sports track, students have the option to choose a Corrective Exercise and Orthopedic Rehabilitation, Exercise and Sports Psychology, Geriatric Exercise Science, Sports Conditioning, or dual degree track.
Recently, Jarrett was appointed clinical director of the Special Olympics Kansas Healthy Athletes FUNfitness program. 
"I've volunteered with individuals with intellectual disabilities before, and my heart and desire is to create optimal potential in everyone, especially those dealing with chronic disabilities or who are living with a disability in some way," Jarrett said.
"It also feeds my athletic background and my kinesiology-adaptive sports side, so it's just a perfect match," she added.
The Healthy Athletes program offers free health screenings for competing Special Olympics athletes to detect unknown health problems and help with any other health issues athletes may face. FUNfitness is the physical therapy division of the program.
In her role as the FUNfitness clinical director, Jarrett will recruit and train volunteers, schedule health screenings, and collect and report data on the health status and needs of Special Olympics athletes.
Jarrett also owns a wellness facility, Pneuma Pilates and Wellness, where she offers Pilates-based personal training, health and wellness coaching, and educational workshops.
After her experience at ATSU-CGHS, Jarrett decided to continue her education in the ATSU-CGHS' Doctor of Health Sciences (DHSc) online program, with an emphasis in leadership and organizational development. She is expected to graduate in 2024. 
For Jarrett, one of the most important parts of being a healthcare professional is building relationships, and she said it is critically important to be community-focused.
"We're helping people, we're helping human beings, and if you're not connected to them in any way, you know nothing about their culture, how they live, how their mind works. It's just very shallow," Jarret said.