ATSU CCPA students support Day of the Farm Worker health and resource event
Posted: December 17, 2021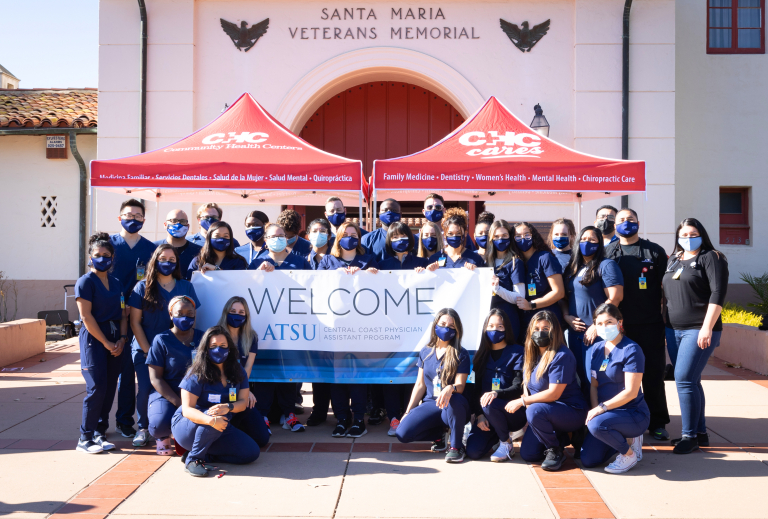 Students in A.T. Still University's Central Coast Physician Assistant program in Santa Maria, California, volunteered at the recent Day of the Farm Worker event.
A.T. Still University (ATSU) launched the Central Coast Physician Assistant (CCPA) program to make a difference in underserved communities across the globe, specifically in the program's home city of Santa Maria, California, and The Golden State's entire central coast region. 
It has been just a bit more than two months since ATSU CCPA opened its doors to the first cohort of students, and those impacts are already being felt. On Dec. 5, more than 30 ATSU students and faculty members volunteered to support the Community Health Centers of the Central Coast's (CHCs) annual Day of the Farm Worker event. The health and resource fair included medical screenings, COVID-19 and flu vaccinations, healthcare activities, education, and resources, and providers to answer questions. 
The last such event, held in 2019 (2020 was missed due to the COVID-19 pandemic), provided services to about 300 individuals. This year's edition, with the influx of ATSU students, addressed healthcare needs of about 500 people.
"It was really awesome to see our students, because we had one-third of our class show up, be able to take so much of that workload and help wherever they were able," said Liny Varghese, a first-year ATSU CCPA student. "All of our students were flexible in their roles and we were able to give care to a few hundred more people."
Some ATSU CCPA faculty members are also providers at CHCs, and they helped the recently formed Student Government Association get the University involved. Many of the farm workers are Spanish speakers, and ATSU students who speak Spanish filled several roles in assisting with registration and throughout the event where language services were needed. Students also helped providers, assisted with administrative work, delivered health education information to families, and hosted fun activities for children. 
"It was a pretty seamless collaboration, which is really exciting," Varghese said. "It's going to be a relationship that will be here for years to come."
John Butler, a first-year ATSU CCPA student, said the event showed students the great need for healthcare services in the area. Many of the farm workers come to the U.S. on work visas and do backbreaking work in fields across the region.
"What Liny and I discovered at the event is (the farm workers are) an invisible population to many, many people up here. It's amazing how much help they need," Butler said. "This put a face to those individuals and we learned how to serve them. It was really powerful."
Much of Varghese's childhood was spent following her mother, a nurse, around at a senior care facility. Varghese became interested in community healthcare in underserved populations during trips to India to visit their family.
"That became so much a part of my psyche and who I am, everything about me," Varghese said. "It really got me thinking about our underserved populations here in the spaces around us."
Originally from southern Arkansas, Butler has spent most of the last two decades in Los Angeles and worked in the entertainment industry. Looking to change careers, Butler spent time preparing for PA school while working at the Los Angeles LGBT Center, doing HIV and transgender medical care for homeless and underserved populations. 
Both Varghese and Butler were drawn to ATSU after discovering the University's mission of service to the underserved.
"That really resonated with me," Varghese said. "It's amazing that within the first few months of our program we've already been able to accomplish so much on such a big event. It's been so fulfilling to see."
Butler said students were aware of the opportunity to showcase their skills and introduce ATSU to the community in a new way, by putting into practice what they've been learning over the past few months. Not all of each cohort's 100 students will stay in Santa Maria after graduation, but those who do will make a difference in what Butler termed a "medical desert."
Either way, having a couple hundred students available to serve at events like Day of the Farm Worker can increase capacity and relieve some of the burden on the area's providers. Varghese noted patients in the area sometimes wait up to four months before their scheduled appointment with a primary care provider.
Varghese said in speaking to providers at the clinic, the common refrain for the past few years has been "just wait until the students get here" and the tide would begin to turn.
"This program brings so much to this community. It brings a lot of hope," Varghese said.