ATSU AT student shares her journey about life as a little person
Posted: December 18, 2013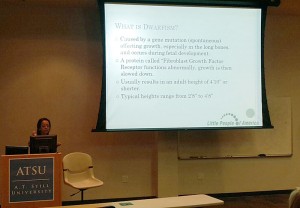 ATSU student, Jessica Markbreiter, AT, '15, spoke to the Arizona campus about her experiences as a little person.
Markbreiter shared the challenges she has faced in her youth and in the present day. "My interest in athletic training stems from my high school PE class," said Markbreiter. "It is what has inspired me to go into the athletic training field."
Thank you, Jessica, for sharing your story!