ATSU-ASHS students, faculty volunteer to pack over 21,000 meals for children in developing countries
Posted: September 1, 2022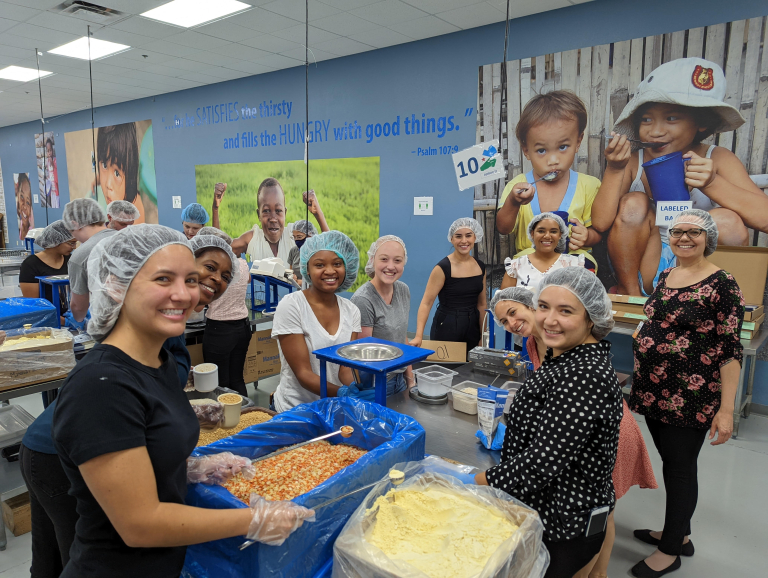 ATSU-ASHS students pack meals for Feed My Starving Children.
A.T. Still University-Arizona School of Health Sciences (ATSU-ASHS) Doctor of Occupational Therapy program students and faculty kicked off their orientation week by volunteering at a local nonprofit – while making some new friends along the way. 
Incoming Master of Science in Occupational Therapy (MSOT) students and Doctor of Occupational Therapy (OTD) students, as well as OT faculty, packed 98 boxes for Feed My Starving Children (FMSC). These boxes will provide over 21,000 meals for children in need in developing countries. 
"I think that when you volunteer, you end up getting more out of it than you give," said Rebecca L. Wolf, JD, MPH, OTR/L, associate professor and chair of the Occupational Therapy department, who attended the event July 14.
"It's also a great social opportunity for the incoming students. They really get to know each other and were able to bond over the experience," she said, adding former students have told her they made great friends at previous volunteer opportunities.
The group donned hairnets and gloves while they hand-packed each meal, which consists of a mix of rice, soy, dried vegetables, and vitamins. The nutritious meals, called MannaPack™ meals, are specifically formulated to supplement nutritional needs and reduce problems with malnutrition.
Volunteer opportunities such as this align with ATSU's mission to serve the underserved, and help students understand community health needs and the importance of working together as a team.
"There are many opportunities around the community. I hope they will continue to want to volunteer even after they graduate from the program," Wolf said.
"We're definitely open to other volunteering programs for orientation in the future. We do plan on doing this volunteer event or something similar every year during orientation week."