ATSU-ASHS student working with LA Galaxy to study how virtual reality can improve athletic performance
Posted: December 16, 2022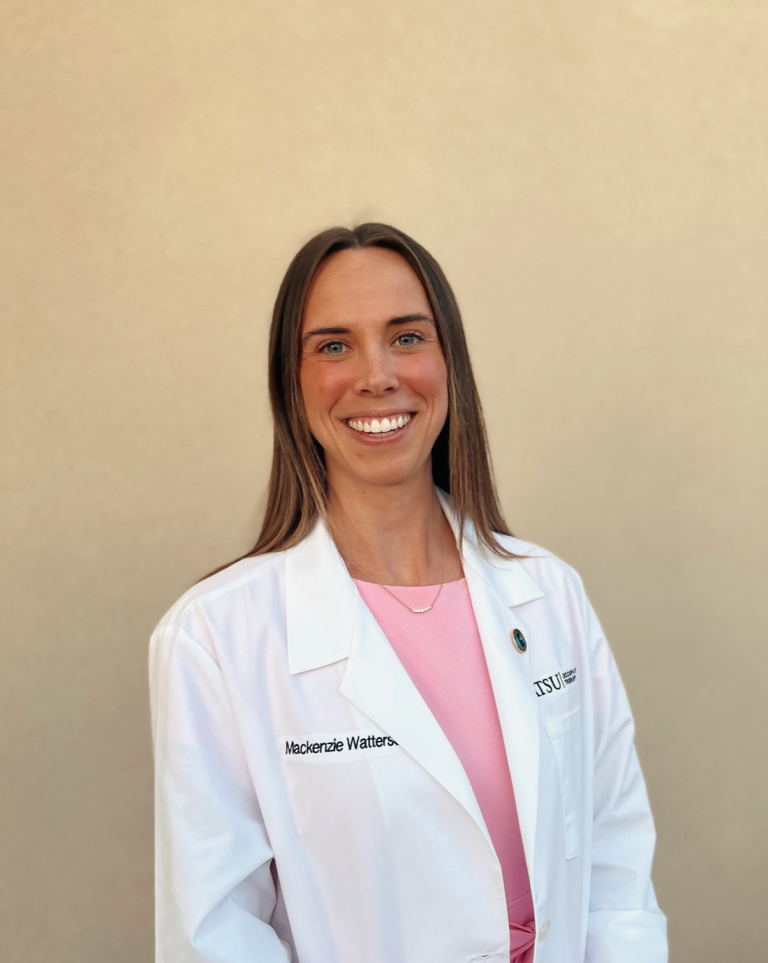 An A.T. Still University-Arizona School of Health Sciences' (ATSU-ASHS) Doctor of Occupational Therapy (OT) program student is studying how virtual reality (VR) can improve athletic performance – while also working to close the occupational therapy gap in sports.
MacKenzie Watterson, OTD, '24, is a second-year OTD student who is currently in the process of working on her doctoral capstone project. Originally from Illinois, Watterson moved to Arizona to study at ATSU-ASHS after completing her undergraduate at the University of Iowa, graduating with a degree in health and human physiology. Currently, she is vice president of the University's hand therapy club, and hopes to pursue hand therapy in her professional career.
"I grew up being super involved in sports. I'm an athlete, I played soccer, basketball, and volleyball," she said. "So originally, what I really wanted to do was combine the two – do hand therapy and upper extremity injuries in athletes."
However, after Abbey Glenn, OTD, OTR/L, CBIS, assistant professor and doctoral capstone coordinator, connected with Watterson, she decided to shift her capstone's focus to VR in sports. Glenn then helped Watterson get in contact with the Los Angeles Galaxy, a Major League Soccer (MLS) team based in California.
From there, Watterson began her research into how VR could be used to improve the decision-making skills of soccer players. For example, Watterson explained that short, game-based VR scenarios are one way an athlete's decision-making time can be assessed.
"Three-hundred-sixty-degree virtual reality is, according to the research, known to be super reliable and a very valid assessment tool for increasing decision making skills," she said.
"The ability to make those fast decisions on the field can really differentiate between a highly skilled athlete and a lesser skilled athlete," she added.
With the help of Michael Rabasca, director of cognitive performance for LA Galaxy, Watterson is working on developing more ways for the team to use VR to improve their performance.
Not only does her capstone project aim to study the influence of VR, but she is also hoping to increase the presence of OTs in the professional athletic world.
"Occupational therapists aren't seen much in sports, but they should be," she said.
Most professional sport teams have a rehabilitation team that consists of a doctor, physical therapist, athletic trainer, and an occasional recreational therapist. However, OTs are generally not a part of this team.
"Not only can OTs help in sports medicine and injury rehab, we can also focus on how one's mental health may be impacted, as well as ways to improve their perceptual-cognitive skills for increased performance," she added.
Currently, Watterson is still in the research phase of this project, but she hopes to relocate to Los Angeles when the project moves to its next phase.
She is also looking forward to seeing the ways athletes use VR going forward, and hopes to see OTs feature more prominently in the world of professional sports.
"Taking a holistic approach like occupational therapists do and more of a client centered approach, we can utilize their mind, body, and spirit, which can lead to faster recovery times and actually prevent sports related injuries."