ATSU-ASHS OT student founds ArizOTA Pelvic Health Special Interest Section
Posted: March 2, 2023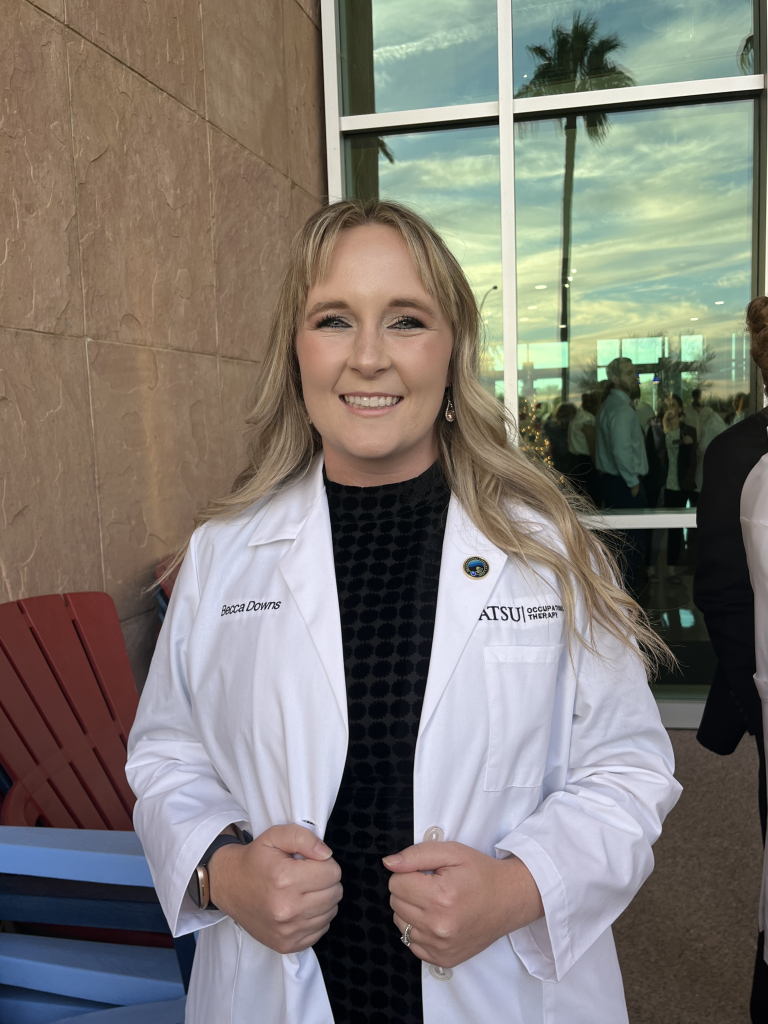 An A.T. Still University-Arizona School of Health Sciences (ATSU-ASHS) Doctor of Occupational Therapy (OTD) program student is helping to advance awareness of pelvic health among occupational therapists in Arizona through a new special interest group.
Rebecca Downs, OTD, '24, recently founded the Arizona Occupational Therapy Association (ArizOTA) Pelvic Health Special Interest Section (SIS), where she hopes to advocate for the speciality among OTs throughout the state.
"These are just topics I really want to normalize," Downs said of her passion for pelvic health.
"What got me into pelvic health was just seeing the need for so many people. There's a lot of things that are not normal that are really common, but people just say, 'It's inevitable, I'm going to lose control of my bladder as I age.' But in reality, that's something someone shouldn't have to live with."
The SIS is one of several affiliated with ArizOTA, which is a professional membership organization for occupational therapy practitioners and students. The pelvic health SIS was founded as a way for OTs and OT students with an interest in pelvic health to come together to develop their knowledge and skills, as well as network with pelvic health practitioners.
This is the only OT pelvic health special interest group in the state, and Downs said there is a need for one due to the lack of exposure for pelvic health OTs.
"A lot of OTs still aren't even aware that pelvic health is part of our skill. PTs are kind of the ones who are historically pelvic floor therapists…but I think it's something that's starting to become more common knowledge," Downs explained.
OTs and PTs both bring a unique perspective and skillset to the field of pelvic health, which is exactly why Downs hopes to raise awareness about OTs potential in the field through the SIS.
"OTs and PTs do have a lot of potential for collaboration…We all have different focuses and we all bring so much to the table," she explained.
Downs is also one of the leaders of ATSU's Student Occupational Therapy Association (SOTA), a student-led organization that aims to educate members and spread awareness of the OT profession.
Downs, who is not only the founder but is also the co-chair of the SIS, hopes to spread awareness through upcoming events with the group.
"OTs are becoming more involved in pelvic health because we have all the tools, equipment, and skills necessary to support pelvic health for people," she said. 

Find more information on ArizOTA committees and sections, here.