ATSU-ASHS graduate found her 'anchor' in the Postprofessional Doctor of Physical Therapy program
Posted: August 31, 2022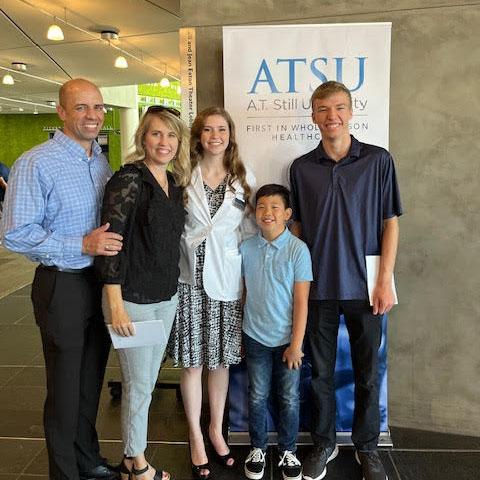 Maren Butcher, PT, DPT, '22 and her daughter, Eliza Butcher, D1, pose with family members.
An A.T. Still University-Arizona School of Health Sciences (ATSU-ASHS) Postprofessional Doctor of Physical Therapy program graduate's perseverance and determination not only helped her graduate, but helped inspire her daughter as well.
Maren Butcher, PT, DPT, '22, graduated from the program on Aug. 7, after facing a series of unexpected hardships.
With a degree in exercise science from Brigham Young University, as well as a physical therapy degree from the University of Utah, Dr. Butcher had been working as a home health physical therapist for several years, until she began researching options for continuing her education.
"I always thought about going back," she said. "We have four children, so I thought, well, I've got a lot of kids to get to school…The all-online helped me professionally and as a mom. I just could not go in person."
ATSU's Postprofessional Doctor of Physical Therapy, sometimes referred to as a transitional (tDPT) program in the United States or physiotherapy degree in other countries, is a custom and flexible degree program that was designed for working professionals.
"I started Nov. 30, and that day my husband got sick with COVID, and we all got it one by one. So during that time, I stuck with it. I thought, 'Should I drop again? Should I stick with it?' Then I got really sick for 10 days with COVID, and I stuck with it and I made it. I made it through that class even though we were all sick," Dr. Butcher said.
Unfortunately, her hardships didn't stop there. Five months later, she began noticing a bump on the side of her hand. Dr. Butcher visited a hand surgeon who removed the bump.
"A week later he called me and told me it's a very serious cancer," she said.
"During that five-month period of time, I did not know how long I had," Dr. Butcher said, explaining that the doctors were unsure if the cancer had metastasized.
Faced with mounting uncertainty and fear, Dr. Butcher said she thought the Postprofessional DPT program would feel like a burden, and was unsure of how she would move forward with her studies. Instead, she said the program became her anchor.
"It kept my mind off the cancer and kept my mind off the potential of what was going to happen, and the surgeries and the recovery. I never had to delay a class, I just kept going," she said.
The program offers maximum flexibility, with curriculum plans that are personalized and student-centric, which enabled Dr. Butcher to tackle everything that came her way.
As Dr. Butcher continued to work her way through the program, her daughter soon made the decision to attend ATSU as well. Dr. Butcher said the focus on whole person healthcare is one of the things that attracted both to the school.
"It's about learning and looking at a patient as a whole person. And to me, it seemed like a very cooperative type of learning, rather than competitive," she said.
A week before Dr. Butcher graduated, her daughter began her first week at ATSU-Arizona School of Dentistry and Oral Health (ATSU-ASDOH).
"I'm just starting, but I've really liked it so far. It's a very positive environment. I've loved all the faculty and professors I've been able to work with, and the students. It's a really friendly and professional environment," said Eliza Butcher, D1.
Dr. Maren Butcher recently celebrated one year of being cancer free, although she emphasized the fact that because this type of cancer is so rare, it can be unpredictable.
"There's just not enough data to really tell you your chances. At this point, though, it looks pretty good overall," she said.
Currently, Butcher is working as a telehealth physical therapist for a rural school district where she is applying the knowledge learned in her Postprofessional DPT program.
"I can be more critical in my research, so I can deliver better evidence-based care," she said.