ATSU-ASHS' DPT program elevating PT profession around the world
Posted: January 20, 2023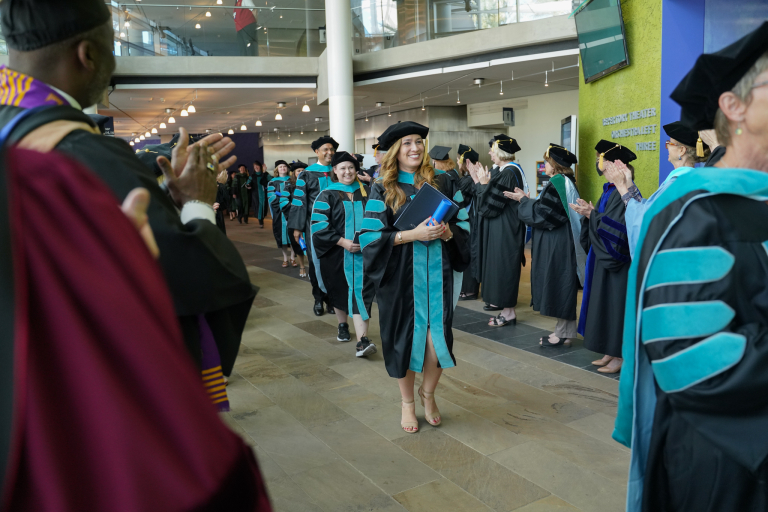 Over the last 20 years, A.T. Still University-Arizona School of Health Sciences' (ATSU-ASHS) Postprofessional Doctor of Physical Therapy (DPT) Online program has completely transformed. Initially developed in 2002 for students studying in the United States, this clinical doctoral degree now educates students from more than 30 countries, preparing them to become leaders in physical therapy both globally and locally. 
"We're really trying to elevate what physical therapy or physiotherapy can do around the world," said Tammy Roehling, PT, DPT, PhD, program director. "We truly want them to be holistic, well-rounded therapists. We also really look at their needs. We support our students fully, we do everything we can to help them, whatever we need to do."
ATSU-ASHS' DPT program has a unique approach to doctoral level physical therapy education, with coursework based on the American Physical Therapy Association's (APTA) preferred education model.
The program's structure enables students to continue to advance their careers while earning their degree. Courses in the program can be taken one-at-a-time, or they can be doubled-up to accelerate degree completion. More than 13 of the courses begin every six weeks.
This personalized and student-centric curriculum provides students with hands-on learning and real-world experience, all on their own time.
"We want to maximize students' flexibility," Dr. Roehling said. "We have weekly deadlines, and how they want to complete that is completely up to them. Some students will want to work during the week so they can have their weekends off, others want to compartmentalize and say my weekends are when I actually do my schoolwork. They can decide whatever is right for them."
In addition to offering students maximum flexibility, the DPT program also stands out due to its focus on nontraditional students, such as international students, both degree-seeking and non-degree-seeking, and older students.
The DPT degree is sometimes referred to as a transitional (tDPT) program in the United States, or a physiotherapy degree in other countries. Outside of the U.S., there are often differences in educational standards and entry to practice for physical therapists.
"If a student was educated with their PT degree outside the country and they're trying to immigrate and get licensed here in the United States, they have to show that their degree is equivalent to the U.S. degree. The U.S. entry level degree is a doctorate degree, and in most places in the world that's not the case," Dr. Roehling said.
The DPT program provides a path for internationally educated physiotherapists to complete the required courses for their U.S. licensure requirements while also earning their doctoral degree.
"Sometimes students say, you know what, since I'm coming to the United States and this degree is a doctorate degree, and I want to have the same degree as everyone else, let me be a degree-seeking student," Dr. Roehling said.
However, she also explained that internationally educated physiotherapists have another option when it comes to becoming fully certified in the U.S. – ATSU-ASHS' Postprofessional Doctor of Physical Therapy Non-Degree.
Instead of completing the doctorate degree, some internationally educated physiotherapists may choose to simply fulfill the necessary credits for licensure in the U.S.
The average age of a student in the DPT program is 43, Dr. Roehling said, and having such a flexible curriculum is one of the main reasons many older students choose this program.
"A lot of them are moms who are like, 'You know, my children are raised now and in college, now it's my time to go back to school,'" she said.
"At this age, our students are having parents that are having difficulties, and so we do everything we can to support and make sure that all of our students, each one of them, can accomplish their goal of becoming a DPT. We really do provide that custom, close support to all of our students."