ATSU-ASHS Doctor of Medical Science professor: 'It's about taking the PA profession to the next level'
Posted: February 16, 2022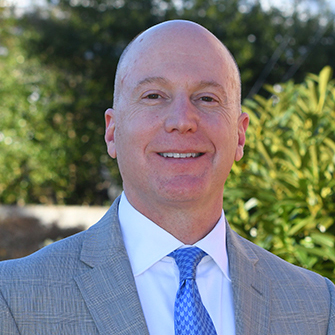 A.T. Still University-Arizona School of Health Sciences (ATSU-ASHS) adjunct professor Joe Weber, DHSc, PA-C, '14, teaches in the University's Doctor of Medical Science program.
A.T. Still University-Arizona School of Health Sciences (ATSU-ASHS) adjunct professor Joe Weber, DHSc, PA-C, '14, has been with the University's Doctor of Medical Science (DMSc) program since its inception, and is a longtime advocate for growing the physician assistant (PA) profession. 
Dr. Weber has helped start PA programs at two schools, including Presbyterian College, where he is now a professor and PA program department chair, program director, and his motivation for joining ATSU's PA doctorate program was simple.
"It's about taking the physician assistant profession to the next level," Dr. Weber said. "We do that through advanced education."
ATSU's Doctor of Medical Science program provides a PA-specific doctorate degree designed by and exclusively for practicing physician assistants. The program offers concentration tracks in education, leadership, and professional. Offered by ATSU-ASHS, this doctoral degree for PAs is the only one providing an in-depth understanding of the elements needed to address the challenges in the U.S. healthcare system today. Different types of doctoral degrees exist for physician assistants, but the DMSc can be earned entirely online – without an on-site clinical residency. 
Dr. Weber first connected with ATSU when he was seeking a doctorate degree, and colleagues recommended ATSU-College of Graduate Health Studies' Doctor of Health Sciences program. Knowing the University's quality firsthand, he was quick to act when offered an adjunct faculty position and role in developing ATSU's doctoral degree for PAs a few years later.
In the time since, Dr. Weber said the PA doctorate program has been strengthened, notably in optimizing student-to-faculty ratios to ensure high levels of interaction between faculty and students. That's important in a program such as this, where faculty members serve in advisory roles for students.
ATSU's physician assistant doctorate online is designed for PAs who are currently, or have previously been, certified or licensed to practice as a PA. With an asynchronous learning model, the entire PA doctorate program provides highly flexible online learning, which minimizes career disruption while maximizing new opportunities. PAs can continue to practice full time while obtaining their degree.
"You're going to get out of this program what you put into it, because you are adult learners in a doctorate-level program," Dr. Weber said. "You're going to be expected to lead your educational path, and we're coaches to help guide you to the end.
"The faculty, we treat all of the students as colleagues. We're peers in practice, and we're coaches. The faculty wants to be involved in helping students succeed, as colleagues, for the profession."
Students should also expect to receive a variety of perspectives. Dr. Weber said PA doctorate students come from diverse backgrounds, not only culturally, but academically, administratively, and educationally.
"That's what makes it so powerful," he said. "You'll have one student barely out of PA school, and then others who have been practicing oncology for 20 years. To see the input they can give each other is wonderful."
PAs with a doctor of medical science degree become empowered to be a voice for the advancement of the PA profession in healthcare, and for expanding the integration of the PA role within underserved populations as a key to cost-efficient care. They become prepared to take a leadership position in advancing whole-person healthcare, social responsibility, diversity and expanded access to care through forward-thinking health advocacy and promotion at the local, state, and federal levels.
Graduates with a physician assistant doctorate also gain a greater understanding of how the legislative process affects healthcare policy and study strategies for boosting the role of PAs in improving healthcare care through legislative advocacy. They have the knowledge and insight to develop innovations in PA education to better equip future PAs, and assess PA workforce trends and predictive models to help guide the evolution of this workforce to effectively meet healthcare marketplace demands in the future.
"Any PA looking to go into academia, having the doctorate degree really helps," Dr. Weber said. "It puts you in parity with other PhD and doctorally trained professors, or if you're going into hospital administration or any of the emerging areas of public health, having that doctorate degree and ability to be a research scientist is really helpful."